Business Case Competition
SOUTH MOUNTAIN COMMUNITY COLLEGE TEAM WINS BUSINESS CASE COMPETITION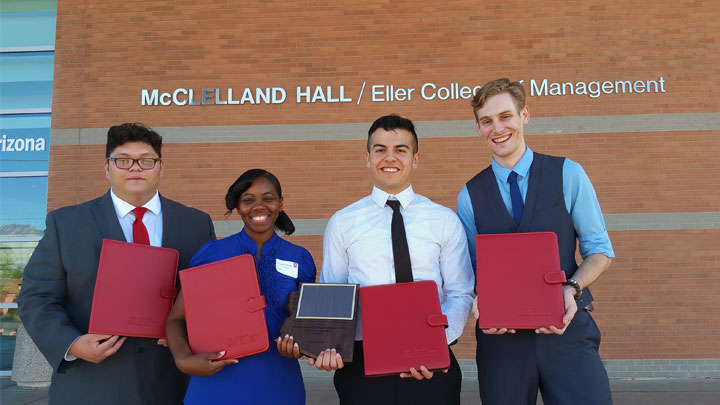 PHOENIX, Ariz. – A South Mountain Community College (SMCC) student team won the Arizona Community College Excellence (ACCE) Business Case Competition on October 14 at the University of Arizona's Eller School of Management.
The team's business plan earned the opportunity for each of the four members to use a $500 scholarship to enroll in the Eller College of Management. In addition, every student participant will be given priority consideration for Eller College transfer scholarships, if they choose to attend the University of Arizona in the future.
A total of 10 community colleges participated in the ACCE event. The members of SMCC's award winning team are Shane Perez, Chandra Bragg, Christian Lopez and Ryan Lindale (pictured from left to right below).
All team members are a part of the college's DECA club. For more information on the club, contact Barbara.Gonzalez@southmountaincc.edu.