Dr. Jerome Garrison Sr.
Honored at Dr. Martin Luther King Jr. Breakfast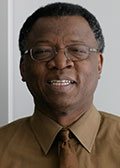 PHOENIX, Ariz.– On January 15, South Mountain Community College (SMCC) faculty member and Division Chair of Communication, Fine Arts & Social Sciences, Dr. Jerome Garrison, Sr., received the Dr. Martin Luther King Jr. Living the Dream Award at the 30th annual MLK Awards Breakfast "Celebrating the Dream".
Dr. Garrison is a lifelong educator and learner with a sincere passion for the community. He has played an intricate role in building SMCC's Music and Fine Arts programs in an environment that provides opportunity and fosters student success.
Dr. Garrison has been instrumental in helping build the arts community: he started the annual Messiah performance in 1987 and led the SMCC design team to build the Performing Arts Center in 2003. In 2008, Dr. Garrison was given the South Mountain/Laveen Chamber of Commerce Volunteer Service Award for his involvement and commitment to the community.
Additionally, Dr. Garrison has helped raise over $300,000 for the SMCC Students Achieving Radiant Success (STARS) Foundation Scholarship. He continues his dedication and passion for providing college opportunities to students by recently organizing a community board of directors to plan and implement fundraising for STARS.
Dr. Garrison's personal quote – "The happiest people don't necessarily have the best of everything. They just make the best of everything." -Tom Peters, Business Writer.