Vice President of Learning Search Update
Over the last two weeks, since we hosted three finalists for the Vice President of Learning position at SMCC, Judy Belsher and I have worked very closely with District HR, the search consultant, and the VPL committee co-chairs, Guy Goodman and Dr. Newton.
Following the open forums on campus, I reviewed multiple sources of input, including open forum feedback comments, first and second interview committee rankings, and rankings from Division Chairs, Vice Presidents, and Deans. Background checks were completed late last week, with a formal offer from District HR being made to Dr. Clyne G. H. Namuo. He has accepted the offer and will begin working with us the week of May 21st.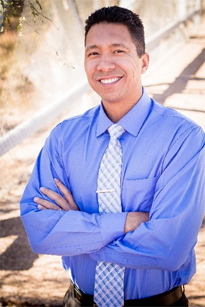 Dr. Clyne G. H. Namuo currently serves as the Dean of Business and Technology at Cochise College where he leads a division that includes CIS/Cybersecurity, Business, Engineering, Small Business Development Center, Career Technical Education (welding, construction, automotive, culinary arts, agriculture/agronomy, HVAC, fire science), and the Prison Education Division. Prior to serving as Dean, Dr. Namuo was a member of the faculty for 11 years serving in progressively responsible positions including Department Chair of CIS and Assistant Dean of Technology (Division Chair).
Dr. Namuo holds a BBA in Marketing from the University of Hawaii, an MS in Information Systems from San Diego State University, and a Ph.D. in Higher Education Strategy from the Center for the Study of Higher Education at the University of Arizona.
He has presented his research on the strategic positioning of community colleges at the annual NISOD and League of Innovations conferences. He is the author of Community College Strategy published by NorLights Press in 2014 and has worked with various community colleges struggling to manage reduced financial resources and the impact of recessionary forces. He has been actively involved in accreditation efforts for over 10 years and is currently a peer reviewer for the Higher Learning Commission.
He is active in the community as a former board President of Habitat for Humanity Sierra Vista, a commissioner for the Industrial Development Authority, and a former member of the Sierra Vista City Council's Citizen Advisory Commission.
I thank you all for participating in the process and providing your input.