Organizational Effectiveness & Technology

The SMCC Organizational Effectiveness and Technology Division (OE & T) is responsible for several areas critical to the general operations of the college, including many behind-the-scenes functions that are vital to providing an effective and supportive learning environment for our students and a productive work environment for our employees. The Vice President of Organizational Effectiveness & Technology has oversight for the following departments at South Mountain Community College:
Technology Support Services, responsible for the management of the college's computer and technology resources.
College Business Services, responsible for the college's financial operations, cashiering, purchasing, property, assets, capital inventory, and budget oversight, third-party vendors such as the bookstore, copy center, and food services.
Facilities Services, responsible for oversight and development of new facilities on campus, as well as maintenance and use of existing buildings.
College Public Safety, responsible for the health, safety, and compliance of our college community.  This office also reports directly to the Maricopa Community College District.
The Vice President of Organizational Effectiveness and Technology provides direct leadership for the following areas:
Dr. Janet Ortega
Vice President of Organizational Effectiveness & Technology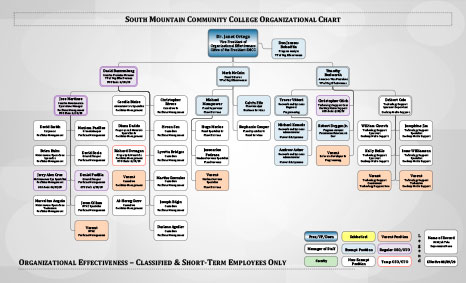 View full-size OET organizational chart
---
Organizational Effectiveness & Technology Leadership
Timothy Budworth, Associate Vice President of Information Technology
David Bannenberg, Interim Facilities Director
Mark McCain, Director, College Business Services