Gila River Indian Community Program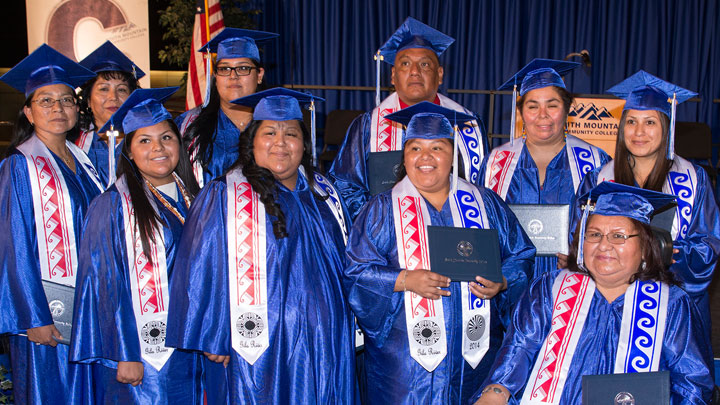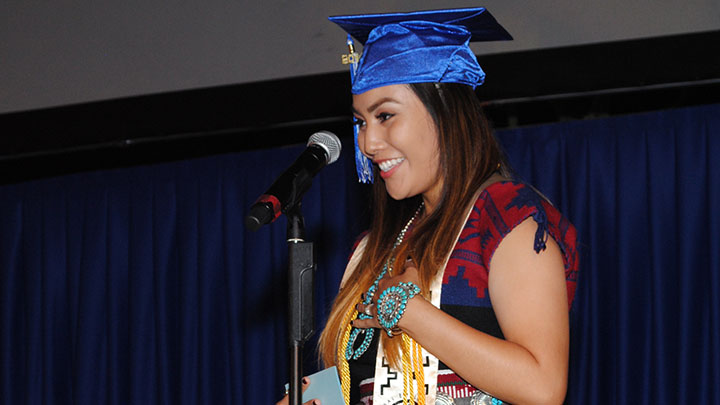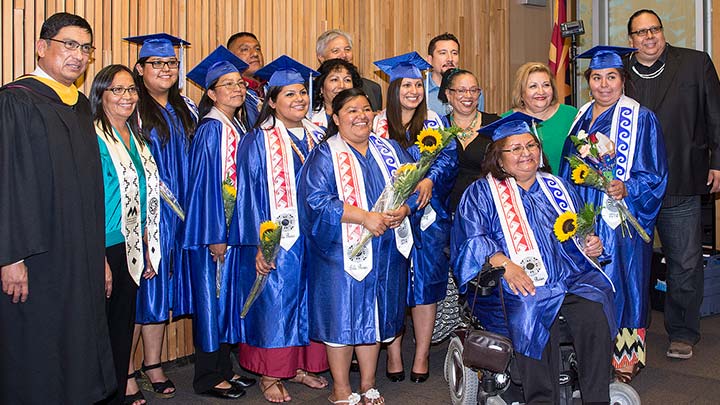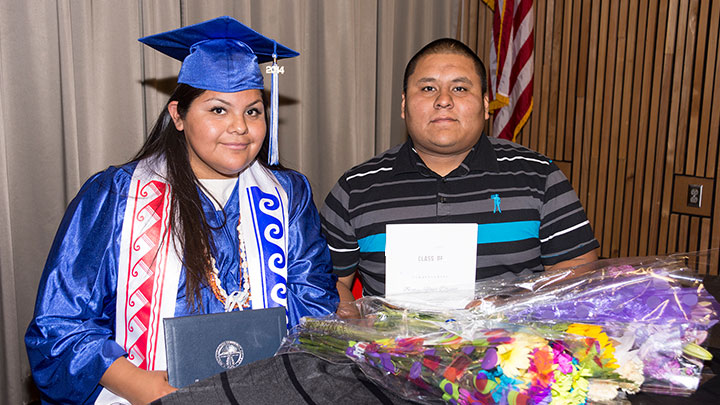 SMCC and Gila River Indian Community (GRIC) have teamed up to provide new educational opportunities and programs for tribal members. Many college-level courses are now provided on the Gila River Reservation, located just a few miles south of the college.
The partnership was formed in 2011, when SMCC President Dr. Shari Olson met with Tribal Governor Gregory Mendoza to discuss the educational needs of the Gila River community.  This marks the first time college courses have ever been offered on the reservation.
The initial program offered through the partnership, which is open to GRIC members only, will provide curriculum to enable students to attain an Associate in Arts degree in Elementary Education, putting students on a pathway to become elementary school teachers.  Ten students graduated in May 2014.
The O'odham language name for the project is Hejel a natho geth mamshchamtham ko hejel eth maschcha, which means "Make our own teachers, to teach ourselves."
We are currently developing new programs. Check back for more information or email matilda.chavez@southmountaincc.edu.
In partnership with GRIC, SMCC is offering a variety of programs that will provide career training for tribal residents students in their own community. Beginning in Fall 2013, SMCC's first cohort of students began pursuit of a 27 credit-hour Certificate of Completion in Instructional Assistance, which may be applied toward an Associate of Arts degree in Early Education (AAEE).
The curriculum includes:
COM 100 – Introduction to Human Communication
EDU 221 – Introduction to Education
EDU 222 – Introduction to Exceptional Learner
EDU 292 – The Art of Storytelling
BPC 110 – Computer Usage and Applications
EDU 230 – Cultural Diversity in Education
EDU 282AC – Service Learning Exp Education
The following certificates are closed cohorts, only available to GRIC. In partnership with GRIC SMCC has provided the following opportunities:
The Phlebotomy program is designed to prepare a person to obtain blood specimens by skin puncture and venipuncture. The GRIC phlebotomist may find employment in hospitals, patient service centers, life insurance companies, doctors` offices, outreach services, and donor centers.
Required Coursed:
+ PLB109 Phlebotomy: Basic Skills 2 + PLB111 Specimen Processing and Advanced Techniques in Phlebotomy Procedures 2 + PLB122 Practicum: Phlebotomy and Specimen Processing 3
The Child Development Associate (CDA) Preparation program is designed to provide documented training in preparation for application to become a Child Development Associate. This program is intended for individuals interested in early childhood education who intend to pursue the national credential of CDA from the Council for Professional Recognition. This program enhances the Head Start programs at Gila River.
Required Courses:
CFS/ECH176 Child Development (3) OR CFS235 Developing Child: Theory into Practice, Prenatal – Age 8(3) 3
EED200 Foundations of Early Childhood Education 3 EED212 Guidance, Management and the Environment 3 EED215 Early Learning: Health, Safety, Nutrition and Fitness 3
EED220 Child, Family, Community and Culture (3) OR CFS157 Marriage and Family Life (3) 3
+EED260 Early Childhood Infant/Toddler Internship (1) OR +EED261 Early Childhood Preschool Internship (1) 1
These opportunities allow SMCC to assist GRIC to grow their own workforce.