Guadalupe Center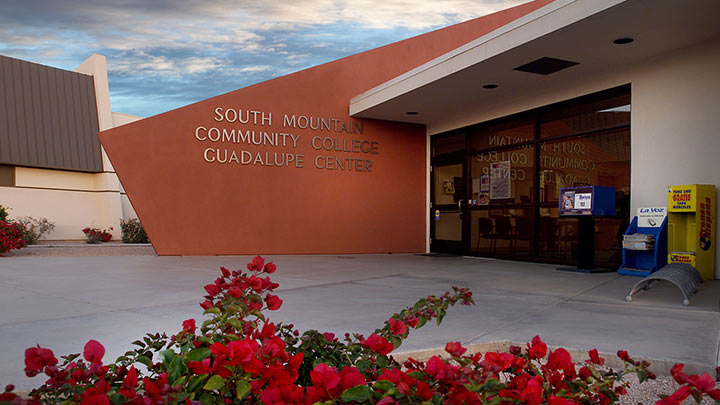 For more than 20 years, the South Mountain Community College Guadalupe Center, 9233 S. Avenida del Yaqui (Priest Drive), has been helping students from Tempe, Phoenix, Chandler, Ahwatukee and Guadalupe find a convenient and affordable way to attain their educational goals.
Our afternoon and evening schedule supports not only working adults but the community-at-large in achieving successful outcomes.
The Center's caring staff will help you get started even if you've never taken a college course before with admission, academic advising, registration and financial aid/scholarship services. We work with you to provide you with resources to assist you in reaching your goal, as well as transferring to any of Arizona's four-year universities. Your success is our success!
Our continuous partnership with the community of Guadalupe provides students with exposure to a diverse environment through celebrations and events held throughout the year.
GED CLASSES
Through non-profit organizations such as Arizona Call-A-Teen Youth Resources Program (ACYR), FREE GED classes are offered to individuals and the community. This program is available to all adult learners, age 16 and older. Classes are held Monday through Thursday, 12:30 p.m. – 2:30 p.m.
The SMCC Guadalupe Center provides students with exposure to a college setting so that they may further their education once they have completed their classes.
One-Stop Student Services
Advising
Disability Services
Counseling
Assessment/Accuplacer
Financial Aid/Scholarship
College Safety
Parking Permits
Career Services
Tutoring
Student Resources
Access to Academic Software
Computer-Assisted Learning
Disability Services
Individual and Group Tutoring
Workshops, Seminars and Training
Veterans Assistance
Pascua Yaqui Higher Education Assistance
Online Book Order Designated Pickup Site
The majority of our courses are fully transferable to Arizona's four-year universities.
For additional information, check out the resources below:
In the fall of 1989, South Mountain Community College opened its first temporary site at the Guadalupe Mercado (Market).
That modest facility, consisting of three classrooms and office space, was nonetheless the first step toward a vision endorsed by the people of Guadalupe.
The facility continues to meet the diverse educational and workforce training needs of students from all walks of life. Response from the community first resulted in the construction of a permanent building in 2000, and later a physical expansion that doubled the size of the Guadalupe Center in 2008.
The Center provides one-stop enrollment for students, as well as advisement, registration, educational planning, financial aid, assessment, tutoring and cashiering services.
We offer classes that fulfill general studies and AGEC requirements, such as Math, Reading, English, Sciences, Literacy, Computers, Humanities, and a Yaqui course. New and unique to the Center is the Pharmacy Customer Service Technician certificate program. Various workshops and seminars are offered throughout the year.
Approximately 25-30 credit classes are offered every semester.  The Center's schedule consists of 16-week, short-term, afternoon and evening classes. The average class size at the Center is 12 to 24 students.
GED classes are offered at the Center through a partnership with the Arizona Call-A-Teen Youth Resources (ACYR) program.
The Guadalupe Center maintains active partnerships with nearly three dozen community organizations, such as the Town of Guadalupe, the Pascua Yaqui Tribe, Boys & Girls Club of the East Valley, United Way, AWEE, and Tempe Adult Education.