News Releases
For all media information requests concerning South Mountain Community College and affiliated activities, please contact:
Bruce Battle
602.872.7904
---
Dr. Maria Harper-Marinick Named 2016 ATHENA Award Recipient for Public Sector Leadership from the Greater Phoenix Chamber of Commerce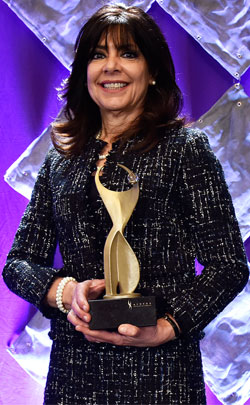 TEMPE, Arizona—Oct. 26, 2016—Dr. Maria Harper-Marinick, Chancellor of the Maricopa Community College District, received the Greater Phoenix Chamber of Commerce 2016 ATHENA Award in the category of Public Sector leadership at the annual award event on Oct. 26. The 11 ATHENA finalists in three categories were chosen for their demonstrated excellence in business and leadership, dedication to the community, and support and mentorship of other women.
"I was truly honored to be an ATHENA nominee; to be chosen as the Public Sector recipient, from among such an accomplished group of my peers, is an esteemed reminder of the important responsibility that we have as women to lift each other up and blaze the trail for those who come behind us just as those before us did."
To receive an ATHENA award nomination, recipients must demonstrate consistent success within their profession and community and have mentored other women throughout their career. Harper-Marinick has been a formal mentor in the Maricopa Community College District's Women Leadership program for 15 years and an informal mentor for countless people who aspire to achieve higher education. "I consider the community at large my 'work space'," she said. "Mentoring and learning together with others is a lifelong commitment." On the national level, she is currently a mentor with the National Community College Hispanic Council Fellows program and the Aspen Institute Presidential Fellowship.
In accepting the award, Harper-Marinick said, "[This award] makes me even more responsible for continuing to do the good work that I've been chosen to do. Every day I get up, grateful that I have an opportunity to serve the community."
Harper-Marinick is dedicated to community service that strengthens opportunities for all students to advance to and through college. An instrumental leader in shaping access to higher education for Arizonans, she serves on the boards of the Greater Phoenix Chamber of Commerce, Achieve60AZ, Greater Phoenix Economic Council, Greater Phoenix Leadership, Arizona Governor's (Ducey) Workforce Arizona Council – Quality Workforce Committee, and Valley of the Sun United Way. On the national stage, she is a member of the Advisory Committee on Student Financial Assistance by the U.S. Secretary of Education, the National Community College Hispanic Council, and the President's Council of the Association of Governing Boards.
In the past two years alone, Harper-Marinick has been recognized for exemplary local and national leadership contributions: she received the 2016 Profiles of Success Special Recognition Award from Valle del Sol, the 2015 Woman of the Year from the Arizona Hispanic Chamber of Commerce, and was named a 2015 Aspen Institute Ascend Fellow.
The ATHENA Award recognizes exemplary achievement among women who have consistently invested in themselves, their profession, their community, and especially other women. More so, it challenges its recipients with a continued sense of responsibility, support and leadership.
---