Welcome to South Mountain Community College (SMCC)!
We are honored by your choice
We are committed to helping you achieve your career, personal, and academic goals
Welcome to the SMCC family
The Department of First Year Experience & New Student Orientation is delighted to connect you with your Field of Interest (FOI) team, and we look forward to introducing you to the resources and support services at SMCC.
The virtual New Student Orientation experience is designed to help you complete your essential steps for enrollment and to familiarize you with the learning environment at SMCC.
There are four components to the Virtual New Student Orientation experience to become SMCC ready:
---
Learn about the specific programs and services that we have at SMCC to enhance your learning experience and meet individuals within your Field of Interest (FOI) team.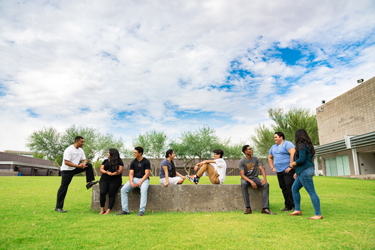 Welcome to the Pre-Orientation on‑demand course.
---
We are excited to assist and support you on your journey to becoming a student at SMCC.
If you have any questions or need more information, please call us at 602-243-8337 or email us at orientation@southmountaincc.edu.