Tuesday, January 25, 2022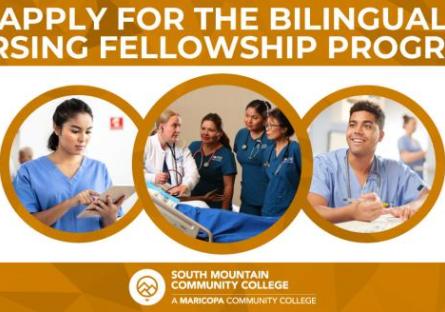 The Bilingual Nursing Fellowship Program Cohort 27 (Beginning Fall 2022) application cycle is open from now until March 25, 2022 (by 5PM).
The Bilingual Nursing Fellowship Program (BNFP) is designed to increase the number of Registered Nurses who read, write, and speak both Spanish and English fluently.
The BNFP is a Pre-Nursing pathway at SMCC for progression into the Maricopa Nursing program with Phoenix College (PC) or GateWay Community College (GWCC). SMCC does not have a nursing program. Students accepted into the program must take remaining Maricopa Nursing prerequisites courses at SMCC including a series of Spanish medical terminology classes. After completion of prerequisite courses, students will submit a Maricopa Nursing application as part of BNFP for PC or GWCC Nursing program (Nursing Blocks).
The Bilingual Nursing Fellowship Program (Cohort 27) information session (e-course)* and application is now available online on our website:
https://www.southmountaincc.edu/academics/bilingual-nursing-fellowship-…
*Please review the information session carefully as it will provide program information and outline application requirements.
The application and the link to the Dynamic Form to upload their application materials can be found in the last module in the e-course.
The application deadline is March 25th, 2022 by 5:00pm (no exceptions).
For questions, please email bnfp@southmountaincc.edu.