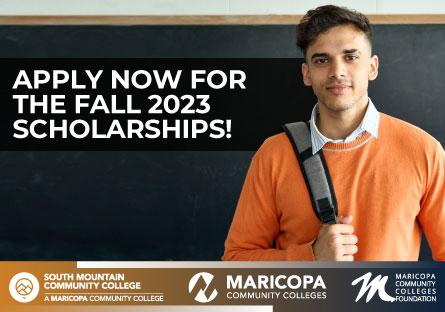 Hundreds of Scholarships, One Application!
Fall 2023 Application Cycle:
March 1 - April 30
All students, regardless of National Origin are eligible to apply!
Don't miss out on the opportunity to earn free money for Fall 2023!
Apply Here!
(Log in with your MEID and Password)
---
Do you need help completing the Maricopa Foundation Scholarship Application?
The Financial Aid Office will be hosting In-Person and Virtual Workshops throughout March and April. A Financial Aid representative will be available to answer questions and help with the scholarship application process.
In-Person Workshops
SES Building | Room 127
Wednesday, March 8 | 3 - 4 pm
Monday, March 27 | 3 - 4 pm
Wednesday, April 19 | 12:30 - 1:30 pm
Wednesday, April 26 | 1:30 - 2:30 pm
Friday, April 28 | 1:30 - 2:30 pm
Virtual Drop-In Workshop
Monday, March 20 | 1:30 - 2:30 pm
Monday, April 3 | 2 - 3 pm
Monday, April 10 | 2 - 3 pm
Monday, April 17 | 1:30 - 2:30pm
Monday, April 24 | 3 - 4 pm