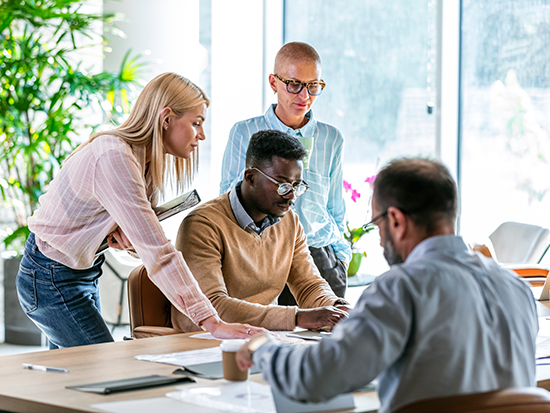 South Mountain Community College is growing! Come grow with us!
South Mountain Community College (SMCC) is a thriving organization with award-winning faculty and staff. Join our team! SMCC currently has openings in all areas of the college, from teaching to administration, including Full-Time and Part-Time.
Whether you're just getting started into the field of Higher Education, or you've been in the field for years, SMCC is a great place to work, with dedicated faculty and staff, a warm and inviting campus culture and great benefits provided by the Maricopa County Community College District (MCCCD)!
Scroll down and take a look at the positions below - click on each link to be taken to the job listing on the MCCCD webpage - and Apply Today!
Work at SMCC
Adjunct Faculty - Electrician
This individual will be a part of South Mountain Community College's Construction Trades Institute and will teach our students in the Early College Program. The students enrolled into our Early College Program are juniors and seniors in high school who are taking college classes. The faculty member will oversee and instruct a diverse population of students teaching them electrical safety, theory and hands-on knowledge to prepare our students for the workforce. 
At Maricopa Community Colleges, adjunct faculty make a lasting contribution to our students' success. Whether you're already a teacher or you're a professional looking to share your expertise, having the chance to influence students may make this the best part-time job you will ever have.
Our adjunct faculty jobs offer schedule flexibility, competitive pay, and the chance to give back to your community.
Completing this application process puts your information in a searchable "pool," to be accessed by hiring managers as needed.
Administrative Services Specialist (Short-Term)
This position performs administrative duties for the Counseling Division, including office coordination, front desk receptionist duties, scheduling appointments, preparing/maintaining office records/reports, office support, and correspondence. This position is critical to the Counseling Division, which serves multiple functions, including academic instruction, occupational instruction, student services, and numerous student success initiatives.
Dean (Short-Term/Open Until Filled)
South Mountain Community College is currently seeking a Dean of Institutional Research, Planning, and Development. This position performs, directs, and oversees complex, sensitive projects and facilitates college-wide initiatives that impact the institution and the college community. The position provides high-level support to the College President. The position is responsible to provide coordination and liaison with College and District Executives and Executive Staff and to interact with local community sponsors and the general public to maintain effective two-way communications between and among the Office of the President. 
Fiscal Specialist Senior 
This position acts as a lead worker and is responsible for the college-wide processing and communications for all procurement of purchase orders, the procurement card (ProCard) cycles, and travel authorizations. This position additionally provides oversight maintaining the college Chart of Accounts and maintaining the Business Services website. The position serves as the lead trainer for business services/fiscal department and provides complex support and assignments in addition to providing data and financial reports for the college community adhering to all administrative regulations, policies and procedures.
Fiscal Specialist Senior 
Cashiers - This position assists the Fiscal Supervisor, serves as lead in the cashier area and provides a variety of complex support and assignments using knowledge of cashiering practices and enforces District's administrative regulations, policies, and procedures. This position serves as a lead worker, assigns and monitors the work of office staff, performs the highest level and most complex fiscal support assignments, including monitoring the integrity and accuracy of financial transactions and daily cashiering processing.
Human Resources Analyst Senior (Short-Term) 
South Mountain Community College is looking for a proactive champion of Human Resources (HR) to join a newly developing innovative HR team. This position reports to the Director of Human Resources and serves as a professional level subject matter expert in the full-cycle recruitment; provides recommendations and guidance on human resources policies, procedures and practices in addition to consultation to employees on reclassifications, separations, retirements, and professional growth.
HVAC Specialist, Senior 
In this role, you will provide oversight to our trades team members in the maintenance of buildings and plants with emphasis on mentoring the HVAC Specialist. You will perform journey level and specialized HVAC work in the installation, maintenance and repairs related to heating, ventilating, air conditioning and related equipment.
Laboratory Specialist Supervisor (Short-Term)
South Mountain Community College is currently seeking a Laboratory Specialist Supervisor for the laboratory area of the Biology department.  The Laboratory Specialist Supervisor supervises and trains staff in the preparation of equipment and materials used for lecture and laboratory experiments. Develops and implements laboratory safety procedures that adhere to Occupational Safety and Health Administration (OSHA) standards, as well as outreach activities that promote science education.
Police Officer 
SMCC invites highly motivated and professional law enforcement candidates to a new and exciting opportunity as a collegiate Police Officer - Lateral. The Police Officer - Lateral will report directly to a Police Commander or designated supervisor and performs general and specialized law enforcement, such as preserving public peace, protecting lives, property, and the rights of the public. This position will also enforce state statutory laws and acknowledge compliance with federal guidelines in accordance with the U.S. Department of Education.
Program Analyst 
Bilingual Nursing Fellowship Program - This position acts as the primary liaison and support to participants in the Bilingual Nursing Fellowship Program, including recruitment and retention activities. The successful candidate will work with interested students in completing the application process. This position tracks and monitors selected Fellow's progress and provides advising support while working closely with faculty. Responsible for liaising with Phoenix College and completing the transfer process from SMCC to Phoenix College. 
Program Coordinator 
The college is looking for a Program Coordinator to provide support to the Vice President of Academic Affairs by coordinating projects, meetings, events, and activities related to the learning division. This position performs research, preliminary analysis, coordination and transactional support related to assigned program. This position interfaces with a diverse array of both internal and external customers to the institution.
Property Materials Tech (Short-Term)
South Mountain Community College is currently seeking a Property Materials Technician to support the college facilities department. This position will provide operational support related to Property and Materials receipt, delivery, disposition and set-up, and removes furniture, equipment and signage for meeting or events.  Performs preventative maintenance and inspection of vehicles; Monitors use of supplies and orders supplies as needed; responds to work order requests.
Student Services Analyst - Academic Advisement 
The Student Services Analyst (Field of Interest Academic Advisor) serves as frontline contact for students for academic advising to drive engagement and empower students to achieve their academic and career goals. This position provides direct advising support to students in an assigned meta-major (Field of Interest) and/or special cohorts; builds formative relationships with students by interpreting information and providing clarification on procedures and academic requirements of specific programs or majors; works collaboratively with faculty, staff, and other advisors to engage in proactive outreach efforts, facilitates student referrals, and creates engagement opportunities related to programs, careers, and educational planning.
Student Services Analyst - Career Advisor (Short-Term)
South Mountain Community College is looking for a forward- thinking Student Services Analyst ("Career Advisor") to join a newly launched, Title V funded Career Center on campus. South Mountain Community College's vision is to educate minds, transform lives, touch hearts, and build community and is proud of being an HSI and MSI institution. This role will be a champion for student needs and their professional development and will help plan, develop and implement innovative and relevant career services as part of a Career Center team.
Student Services Analyst - New Student Orientation
South Mountain Community College is seeking a Student Services Analyst to lead New Student Orientation and The First-Year Experience by providing a range of programming and opportunities tailored to the diverse needs of incoming students, ensuring their full engagement in the enrollment process and setting them up for a successful first year. This role involves managing a caseload, providing outreach, and nurturing prospective and new students through the admissions and enrollment process, ensuring a successful first year and beyond. Responsibilities include coordinating and hosting all New Student Orientation programs, acting as a one-stop resource for prospective and newly enrolled students and families. The analyst provides high-level customer service and guidance throughout the enrollment and first year experience. They also organize campus events and tours for prospective students, families, and community members.
Student Services Specialist Sr - Student Life
The Student Services Specialist Sr. in the Office of Student Life and Leadership works in conjunction with the Student Life Manager to support and advance the student outreach and retention goals of the College. The successful candidate will create innovative programs that promote student engagement, with a particular emphasis on developing programming with in conjunction with Faculty and Staff that complements the student's Field of Interest. This will be accomplished through the development, implementation and evaluation of campus-wide programming, such as Welcome Week, Fall and Spring Fling and other events.
Tech Support Specialist Sr
South Mountain Community College is hiring for a Technology Support Specialist Senior. This position provides advanced-level user and technical support for specialized equipment, networks, operating systems, applications, and information security apparatuses. Additionally, the Technology Support Specialist Senior provides secondary support for various Endpoint Configuration Management systems (such as MECM, Sophos, & Umbrella). As the lead specialist, this position will serve as a point of escalation for lower-level support teams, and will work with management to train and coach new and existing technical staff.
Vice President, Academic Affairs 
The Vice President of Academic Affairs (VPAA) is the chief academic officer of the college. Reporting to the President, the Vice President will work closely with Faculty Senate cabinet officers, Deans, and Department Chairs. The VPAA will join a committed team of senior executives led by a visionary President and supported by excellent faculty and staff, many of whom have been at SMCC for a number of years.
Workforce Development Manager (Short-Term) 
This position is responsible to develop, plan, implement, administer and evaluate a diversified workforce development and community partnership program in support of workforce programs, business innovation and retention efforts.
TRIO Program Tutor (Student Learning Facilitator, Tutor | Trio Upward Bound | 3 Positions)
Tutors who provide learning assistance in the subjects of Mathematics, English, Science, and/or Accounting in support of TRIO Upward Bound student participants. This position provides tutoring at local area high schools on Tuesday and Thursday afternoons for a total of five (5) hours per week. Tutoring at Central High School is scheduled on Tuesdays from 3:00 pm - 5:00 pm and at South Mountain High School on Thursdays from 3:00 pm - 5:00 pm. Schedules may vary depending on program needs.
Academic Advisement Front Desk
Greeting visitors, assisting with phones and answering questions, data entry, assisting staff and students during New Student Orientation sessions.
Behavioral Sciences Assistant
The student worker will assist within the Counseling Department under the Behavioral Sciences Division with office-related duties, including greeting visitors, answering phones, maintaining organized file systems, scheduling appointments, etc. Student workers will assist in providing program-related general support and assistance to faculty, staff, and students. Professional growth opportunities to assist in the capacity of a behavioral science tutor, marketing and recruitment, and career services. 
Recruitment and Outreach – Tours
Recruitment and Outreach and the Contact Center is seeking a student worker to support recruitment functions including general office assistance, making outbound calls, and participating in campus tours.
Sustainability Assistant 
The Sustainability Assistant job duties include: Supporting the programs, initiatives, and resources related to sustainable practices; Collecting data and researches best practices related to sustainability initiatives; Helping prepare and write reports, and giving presentations from collected research.
Updated: December 6, 2023