Who Do I Call?
480-784-0911 (x40911)
Disruptive/Disorderly Conduct
Medical Emergencies
Use of Alcohol/Drugs
Harassment/Fighting
Crimes in Progress
Active Fires
Weapons
Children/Animals in Vehicles
Verbal or Physical Threats
Suspicious Packages
Suspicious Persons
Traffic Accidents
Trespassing
Theft
SMCC Police Office
602-243-8100 (x38100)
Lost/Found Property
Minor Medical Issues
Parking Violations
Facilities Issues
Animal Issues
Door Unlocks
For any medical emergency on the South Mountain College Campuses, College Police should be notified. Employee Injury is classified as an injury or illness that arises out of the course of your employment during working hours. The following steps are to be followed in the event of an employee injury;
If medical attention is required immediately, call the College Police Emergency at 480-784-0911
Immediately notify Supervisor of injury-Supervisor and Employee must complete the Supervisor's Report of Industrial Injury
Call Triage Now at 844-332-5221
College Police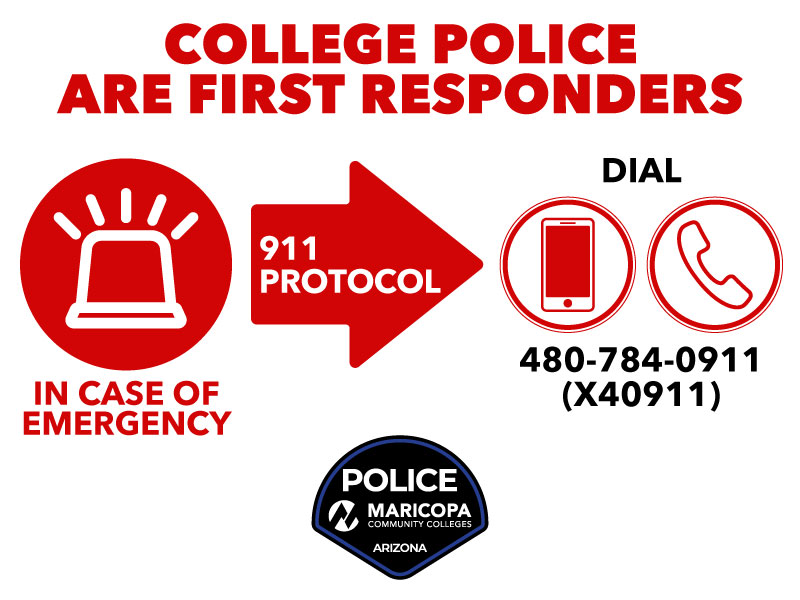 About Us
Mission
The College Police Department supports the educational mission of the Maricopa County Community Colleges by providing community-oriented services to ensure a safe and secure campus for our students, faculty, staff, and visitors.
Vision
To be a model in providing ethical, effective and value-oriented emergency preparedness, law enforcement and public safety services within higher education.
To ensure the safety of the South Mountain Campuses, the College Police office is staffed with AZ Post certified sworn police officers, college police aides, student workers and support of office personnel. Public Safety is a 365 day/24 hour operation; however, for the normal business operations, the College Police Office is open 6:00 a.m. to 10:00 p.m., Monday through Friday.
To decrease the chance of crime occurring within the campus community, everyone's cooperation and vigilance are needed. Campus safety is everyone's responsibility, and our community members re-encourage to contact College Police If You See Something-Say Something!™
Authority
The College Police Commander and all College Police Officers have full peace officer authority, including arrest authority under Arizona Revised Statutes (ARS) Title 13-3883 and as further defined by the Arizona Peace Officer Standards and Training Board. The College Police department's Police Aides have no arrest authority except those granted under ARS 13-3884.
Other Links