Emergency Preparedness
Life safety and security are the number one objective for the SMCC college community. We all play an important role to help keep the campus safe. If you see any activity on campus that causes you concern or you feel unsafe, please report it immediately to College Safety.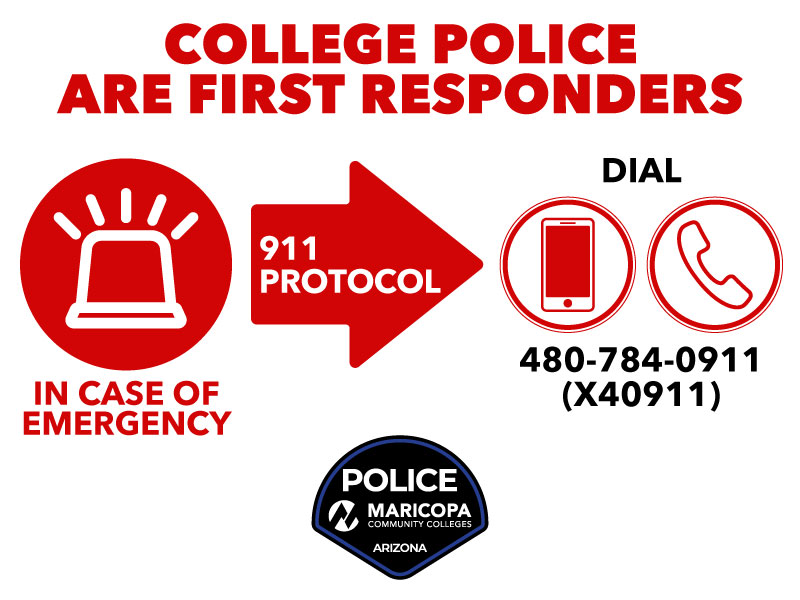 ---
Emergency Response
In order to receive a message in an emergency situation, it is vital for all SMCC students to update their personal contact information in your Student Center.
Please login with your MEID and password to review and update your cell phone number and email address. The reliability of this system is dependent on the accuracy of contact information to ensure you will receive an alert in the event of an emergency.
South Mountain Community College, as one of the ten Maricopa Community Colleges, is prepared to handle a variety of emergency incidents. While the District and college cannot necessarily prevent incidents from occurring, risk assessment and mitigation are ongoing. The safety of students and employees is our highest priority. While the college has an Emergency Operations Plan, emergency preparedness is everyone's responsibility. This website will help students and employees understand:
how they will be notified of an emergency
the actions they must take when an incident occurs; and
the importance of following the official direction in the event of an emergency
All SMCC students and employees will receive text messages via their cell phones in the event of an emergency. Additional information about this Maricopa Community College district-wide system can be found here. Students and employees will also be contacted in one or more of the following ways in the event of an emergency:
E-mail notification
The SMCC home page
Maricopa Alert Twitter
Telephone
Door-to-door notification campus-wide
RAVE