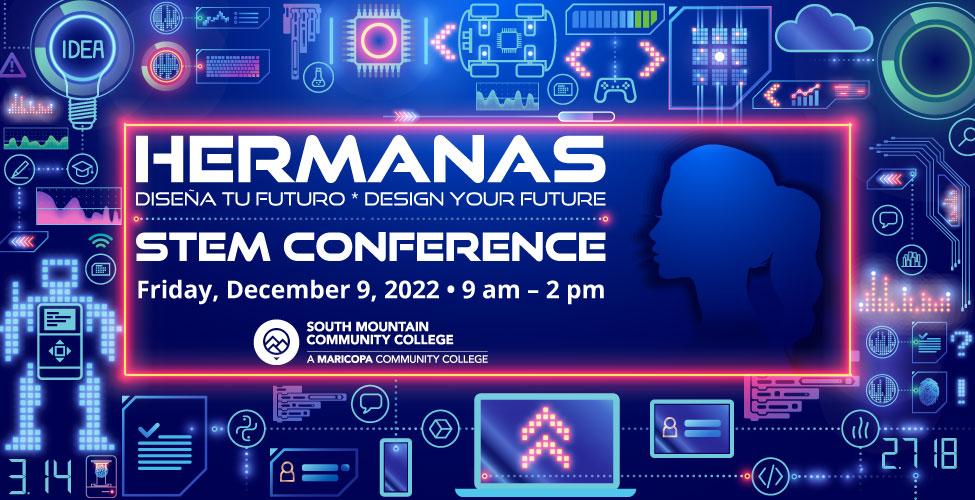 The goal of the Hermanas conference is to increase the number of underrepresented female students choosing to go to college by inspiring them to pursue an engineering and science education and envision future careers in a technical field. 
CONFERENCE PROGRAM
Hands-On STEM I Participants will engage in fun, interactive, hands-on activities to introduce concepts in problem solving, teamwork and creativity.
Town Hall I Meet successful women in STEM careers sharing their journey! Resource Fair I Educational institutions from the East Valley and Phoenix area will be available.
Closing Ceremony I Reflect on your learning experience enter a raffle to win a prize!
Deadline to complete registration is December 2, 2022. For questions, email early-college@southmountaincc.edu 
Our History of Collaboration and What Brought Us Together: Intel Corporation volunteers from the Intel Latino Network, and the Maricopa Colleges came together almost 15 years ago to influence the STEM workforce of the future. We saw many young women, especially Latina girls, who did not know what it takes to be an engineer, scientist, or technical professional or the opportunities open to them. All too often, there is the perception that these professions are not "traditional careers" for women - especially women from historically underserved backgrounds - as reflected by the low number of women that pursue technical fields. This segment of our growing population in Arizona is most at risk of not being prepared to enter the future workforce. The result of this collaboration was the development of the Hermanas Conference, which has served more than 6000 students in 45 conferences at four (4) colleges in the Maricopa Community College District.
Intel Corporation is collaborating with community colleges to sponsor this pre-college conference. Our participants have historically been underserved female middle and high school students, but all students are encouraged to attend.
A dynamic planning committee comprised of representatives from Intel Corporation and our College have collaborated to design a unique model of partnering academia and corporations around the common goal of increasing college enrollment and graduation rates in STEM fields.