Wednesday, September 25, 2019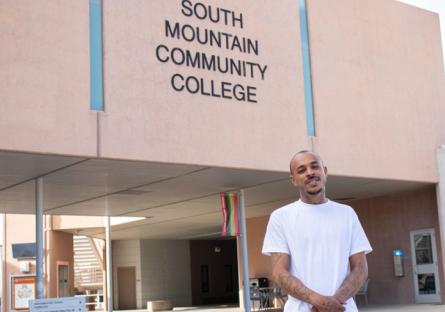 Steven Rushing, rapper and Music student at SMCC is winning his way into a successful music career.
Steven, better known as "Hazeion" in the community, started rapping since he was six years old, "it was my unofficial start," said Steve when asked about how he started his career. "I've always love rapping, ever since I was a young boy, I remember rapping," he added.
Hazeion won the Phoenix, city competition for Who's the Hottest, and will now be heading to California to compete at a regional level, hoping to move forward for a chance to win the $5,000 grand prize and the opportunity to tour nationwide.
Who's the Hottest is an independent nationwide rap competition, testing all rappers in crowd reaction, stage presence, lyrics, production quality, appearance and originality. To move forward, rappers have to excel in all categories. "It was the best feeling" he said, "just to see everybody yelling for me, to see my mom in the front row cheering me on, it was unbelievable," he added, as he remembered winning during the Phoenix concert at The Blooze Bar.
"I'm inspired to tell stories and unite people in my community through my music," Hazeion mentioned when he talked about the legacy he wants to leave behind. His career, now at a turning point, is taking the next step as he prepared for the competition and actively work on his first album, "Dazed and Confused" via Live Umbrella Entertainment.
His regional performance will be in California, but he hopes to connect with the SMCC community during the Shining Stars Talent Show and Fundraiser this upcoming September 27, at the Performing Arts Center.
Students and community members have the opportunity to see his performance before he heads to Who's the Hottest.