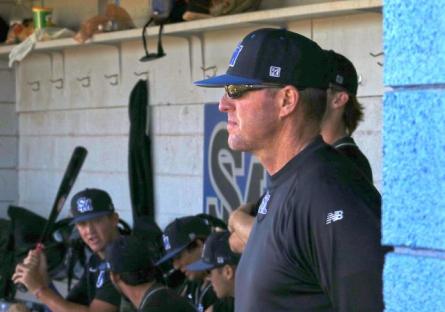 It took roughly 17 years for Todd Eastin to accumulate his 600th career win as the baseball head coach at South Mountain Community College. Please forgive him if he has not had time to celebrate the distinction.
He just lost several outfielders for an extended time due to injury. The school's accreditation is up for renewal amid its 40th anniversary. The rookie softball coach has had to deal with rainouts in the second week of the season. The school's basketball teams are fighting for playoff berths.
February is a busy time for any school's athletic administration. For Eastin, who also serves as the school's Athletic Director, this is just part of the job description.
Coach Todd Eastin has spent nearly his entire baseball career with South Mountain Community College. Aside from a stint at McNeese State University when his community college eligibility expired, Eastin has spent close to three decades working with Cougar student-athletes.
He has watched the transformation of the campus and baseball program first-hand and done so with a blue-collar mentality. Hard work has defined his life, and Eastin is happy to savor the success when he has time to do so.
"I enjoy the skillset and mental aspects of the game," he said. "I firmly believe that if you coach them the right way, you can take an average team and make them great. I enjoy taking that group of above-average high school student-athletes and turning them into legitimate NCAA Division I prospects."
Originally from Southern California, Eastin took a circuitous route to SMCC. As a senior in high school, his family moved to Phoenix while he remained in the Golden State. That summer, he joined a Babe Ruth league and worked under the tutelage of a former Los Angeles Dodger Mike Marshall. The team quickly won a national championship.
He came to Arizona, unsure where he would go for community college baseball. As part of a regional tournament at Grand Canyon University, Eastin's squad, of whom every starter would be professionally drafted, squared off against a team full of Arizona State commits and beat them twice.
That attracted the attention of George Lopez, a former Sun Devil assistant who had just taken over at South Mountain Community College. When he heard the Eastin family was in nearby Ahwatukee, he offered Todd a spot on the team, and the rest was history.
He wound up playing two years for Lopez, and when his playing days were over, he came back to SMCC and spent five years as the pitching coach. Eastin played catcher, and he believes that experience has helped him in his coaching.
"I tell our guys every year that the catcher is the most important position," Eastin said. "Simply put, he is the only guy who can see everything on the field. The catcher has to think his way through a game. Even with more coaches calling pitches, there are still plenty of things that a catcher can see and relay back to the dugout. They are the field general. In my 22 years of coaching baseball, I would always take a good catcher on an average team rather than an average catcher on a good team."
When Lopez retired, Eastin stepped up and made the program his own. He brought back only three of the 21 freshmen who had been on the roster to transform the team's mentality to reflect his own. That team won its side of the conference and hosted in the playoffs. He was especially proud when the program's all-time record climbed back to .500 and the players and teams it took to get there.
"One way we have sold our program over the past few years is in development," Eastin said from his campus office, which sits next to the school's gymnasium. "We are going to develop our student-athletes from week-to-week and month-to-month. We have a structured program for pitchers to help them build velocity and get their bodies stronger and more coordinated.
"Our assistant coaches do a phenomenal job. Everything we do is development. We track everything we do in the fall, from every pitch that is thrown to every weight that is lifted in the weight room. This way we can show them on paper that if they are doing the same thing they did last week, what are they going to do to get better."
One of Eastin's greatest pleasures comes in beating Division I community college opponents. There are no dorms or food plans at South Mountain Community College, and that can affect the Cougars' recruiting. Student-athletes can be attracted to perks and facilities, but on the playing field, everything is even, and Eastin enjoys beating those who do less with more.
"We understand our situation: we are a Division I community college competing with Division II restrictions," Eastin said. "We take a lot of pride in that. We understand that we are going to have to out-work people. We shouldn't win those games against Division I opponents who have dorms and meal plans, but I take joy every time we can take a ball game from those folks. "
"We have got our program to where it is one of the most consistent in the conference. Among the entire Arizona Community College Athletic Conference, only Cochise and SMCC have made the postseason seven years in a row. That is an accomplishment, knowing the resources we have compared to our competition."
"We want to compete with the best. We have to work a little harder on the recruiting trail because we don't have what our competitors have. Again, you get a little more satisfaction getting to compete and finish in the top four of the conference every year."
Eastin has seen the landscape of community college baseball change throughout the decades. What was once just viewed as a landing spot for athletes who could not qualify academically, Eastin now sees student-athletes on both sides of the spectrum in terms of academic and athletic abilities.
"There are a lot of misconceptions about community college baseball, although I think those are changing," he said. "Today, I think you have both ends of the spectrum. We get kids who want to be on the field and don't want to sit out a year. They might qualify academically and be able to sneak onto a Division I roster or another four-year program, but they want to get on the field and see the value in playing."
"Nowadays, I look at community college as the workhorses. It is an opportunity to get better," he added.
In addition to his baseball duties, Eastin is also approaching his 10th year as Athletic Director at SMCC. With only three full-time coaches on staff, Eastin relishes the work and grind it takes to run a department with nine sports and limited funding.
"I enjoy the challenge, especially any time we can get those sports with part-time coaches into the postseason. Having a lot of part-time coaches can be challenging, but I was a part-time baseball coach for two years before I became a full-time employee. It is my goal before I leave to get more full-time coaches here to serve the student-athletes better.
We have also enjoyed a lot of success academically in the classroom since I started as the athletic director. We are continuously thinking about what sports we could add that we could be successful in the future and could drive enrollment."
Nothing brings Eastin more joy than watching his student-athletes and coaches develop and move on to bigger things. The Cougars now regularly produce NCAA Division I talent, some of whom go on to professional careers.
He recalled a young pitcher who hardly played in high school and hit about 78 on the radar gun when he first got on campus transforming into a 12-1 pitcher who signed on with a Pac-12 program.
"If your goal is to pitch at South Mountain Community College, I may tell you to go somewhere else," he said. "One thing we have been able to brag about over the last 15 years is that a lot of our guys did not necessarily have NCAA Division I offers out of high school. Now we are to the point where we are sending out 10-plus student-athletes to Division I schools each year."
He is especially effusive with the praise for his assistant coaches. Tyler Gillum has been with Eastin for 10 years and has been instrumental in instituting a personal development program for the Cougars. He is also a member of the school's Exercise Science faculty, and Eastin admits SMCC is lucky to have him still around.
"Coach Gillum has been an absolute spark plug for this program. He works with our infielder and hitters, and does a lot on the national level," Eastin said. "He kind of just showed up, we spoke for 30 minutes, and I hired him. He's been the energy in our program."
Gillum echoed Eastin's reliance on toughness and overcoming adversity.
"Coach Eastin is an unbelievable leader. I think we work well together because we have a lot of the same philosophies," said Gillum. "It is hard for me to leave because it is great to work with a guy who is as highly disciplined and knowledgeable about the game of baseball."
"What we hang our hat on is guys being tough and able to handle adverse situations. You can talk and have mottos, but it comes down to a reflection of the coaching staff, and that starts with Coach Eastin. He brings it every single day," Gillum added.
The season is in full swing for Eastin and the Cougars, who have a home game less than 12 hours after a game the night before in Chandler. Eastin is one of the first in the office, and a trove of unread emails await his reply. The team pulled redshirts from several student-athletes in the wake of the injuries, but that doesn't faze Eastin.
"We got dealt some adversity at the beginning of this season, but I am not the type of person to let things ride, so we are going to make adjustments. I have always hated getting into late March and April and saying 'what if.'"
After all these years and the hard work put in during that time, he wouldn't want it any other way.