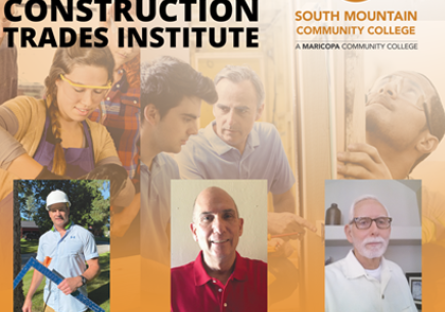 South Mountain Community College (SMCC) is gearing up to open the state-of-the-art Construction Trades Institute in the Fall 2020. As the institute begins to take shape, SMCC selected a team of instructors to lead the program with more than 50 years of collective experience in the construction trades.
Michael Blanton and Michael Theulen of Arizona, as well as Richard Chernicky, who joins SMCC from Pennsylvania, were hired to take on the brand-new program focused in Electrical, Plumbing and Carpentry.
"It is a unique program, and we needed unique instructors that can bring the skill and ability to take the Institute to the next level," said Dr. Clyne Namuo, Vice-President of Learning at SMCC. "We looked across the country for the right instructors to join the college, and we found them."
Together, the three instructors bring their professional background, deep-rooted family histories of work in the trades, experience in business, and a commitment to student success.
"The best part of this program is that we will be able to see how it impacts the community," said Michael Blanton, who will be coordinating the Plumbing program and has more than 20 years of experience leading construction trade programs for high school students and adult learners.
"Teaching trades brings more than just a skill, it is about ethics and the responsibility you have to your team and the business," added Michael Theulen, as he talked about careers in trade.
"Having the opportunity to build this institute, gives us the opportunity to become advocates" said Rick Chernicky, Carpentry program coordinator, "and it can be treated like starting a business. The possibilities are endless in this field."
"There is a deep fulfillment in this career, by providing somebody a home and a roof over their head, and to see the joy in their eyes that you made something nice for them," Chernicky added. "We hope we can pass this knowledge and passion on to the new generation of craft professional."
Potential students interested in the program can join the virtual SMCC Construction Trades Institute: Meet the Professor event scheduled for June 16. Learn more about the SMCC Construction Trades Institute and how to get started at southmountaincc.edu/CTI.