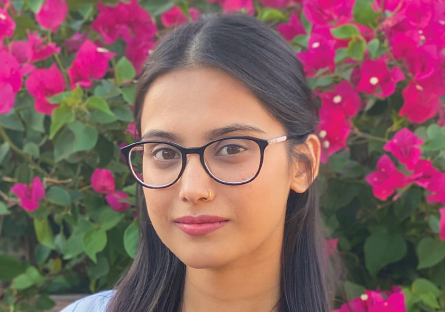 Amidst a global pandemic, transitioning college classes, finals and the beginning of her journey at Arizona State University, Soyasha Pandey, has continued her path with excellence.
Soyasha Pandey, South Mountain Community College, Class of 2020 Valedictorian is an example of perseverance and dedication to the community in Phoenix. After migrating from Nepal, South East Asia, Soyasha started her journey at SMCC in the Fall 2017, choosing to major in Aerospace Engineering-Astronautics, following her goal to learn about the universe while having a hands-on experience.
During her time at SMCC, Soyasha joined the campus STEM-Sustainability (STEMS) Club and became an active member of the college community by working on creating a healthier and more sustainable campus through advocacy and collective work. Some of the causes she advocated for included the renovation of the SMCC Desert Garden, by helping create an educational experience for students, as well as her efforts in advocating for a Solar Paneled Pergola, a project still in progress. Along with the STEMS Club, Pandey also helped shape the next project dedicated to the SMCC Greenhouse, where students would like to create a community garden.
As a student, Soyasha became a work-study Biology Lab Tech, helping introduce her to unique experiences and a first-hand view in learning about multiple careers across the STEM Field. Through her mentors, STEMS Club Advisers Anthony Garcia and Dr. Carl Whitesel, and SMCC Professor, NASA Analog Astronaut Dr. Sian Proctor, Soyasha was encouraged to pursue life-changing opportunities, learning to advocate for herself and her community.
In addition to her experience through SMCC, Soyasha also became an intern at Energy Quest Technologies, and has since been hired as a Test Assistant working along engineers in HVAC (heating ventilation and air conditioning) Systems, augmented reality and much more.
This Summer 2020, Pandey also began her journey at ASU, continuing to follow her degree path in the middle of a historic change. She feels she leaves behind a legacy and a permanent reminder of education through sustainability. She wants her fellow classmates to remember to "not let yourself get the best of you. There are always going to be times where you feel like you're not supposed to be here. But you are, because you worked for it you clearly belong because you wouldn't be here if you didn't deserve it."