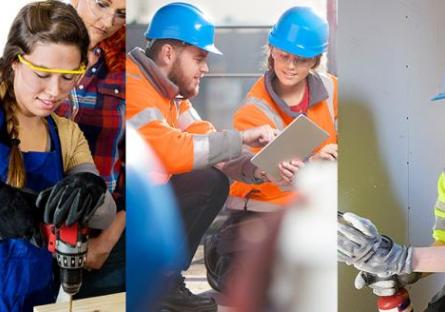 As Arizona continues to be a high-demand state for craft labor, South Mountain Community College responds to the market needs by launching the phase one of a Construction Trades Institute.
The brand new SMCC Construction Trades Institute is set to open its doors to students in the Fall 2020, with classes beginning in August. The institute will offer three programs in the construction trades: Carpentry/Framing, Plumbing and Electric.
"It's an exciting time for SMCC, as we have been working hard to offer programs that our community needs" said Dr. Clyne Namuo, Vice-President of Learning at SMCC, who has been spearheading the efforts to build the program. "We are excited to launch this program along our partners, who have been key in the process to build a program that works for the businesses and our students," he added.
The program was developed with key input from Brewer Companies, Haskins Electric, LLC, 3-G Construction and McCarthy Building Companies, to help SMCC provide a program that serves the communities in Arizona and responds to the market demand from businesses nationwide.
The partners have also committed to guarantee all SMCC Construction Trade Institute graduates interviews in their companies, giving SMCC students a unique opportunity in job placing after graduating from the program.
"From our perspective, if someone is willing to commit, sit in a classroom for a semester, and knock on our door, they've already outperformed" commented Michael Brewer, President of Brewer Companies, and strong advocate for skill-labor education.
As SMCC prepares to launch this program, construction and remodeling of the facilities is still on-going.
With the launch of the new SMCC Construction Trades Institute, a partnership with the Pascua Yaqui Tribe will help fund the first cohort of students starting the program.
"We want to thank the Pascua Yaqui Tribe for helping fund the first cohort" said Dr. Namuo, "thanks to this partnership, the first 48 student in Electric, Carpentry and Plumbing careers will be sponsored through scholarships."
"It's the first step to the American dream," Brewer mentioned, "when students learn a trade, no one can take it away," Brewer added in response to the brand-new opportunity SMCC will offer.  
SMCC along with partners supporting the South Phoenix community are bringing awareness to skill labor, and created a program, that can set precedent for programs across Maricopa.