Wednesday, October 21, 2020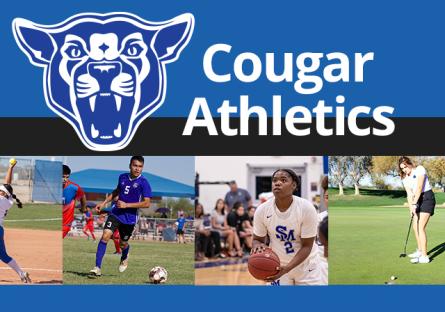 South Mountain Community College and PrestoSports will launch the Cougars' new official online home, smcccougars.com, on Wednesday Oct. 21. PrestoSports is one of the nation's leaders in intercollegiate athletic websites and streaming services and will provide Cougar student-athletes and fans with an improved online experience.
"We are excited to partner with PrestoSports to deliver the new SMCC Athletic Department website," said SMCC Director of Athletics and baseball head coach Todd Eastin. "The new website will provide the opportunity for increased exposure for our student-athletes, a more user-friendly experience, and a consistent platform for schedules and statistics."
With its streamlined navigation, the new website will serve as the online hub for all SMCC athletic competitions and events. The site will also feature Cougar social media channels, information for prospective student-athletes and links to the online donation portals and the official SMCC bookstore for apparel.
In addition to having the capability to host live stats, the new website will enable the athletic department to start video streaming selected home contests. These live video streams will allow fans to keep up with Cougar athletics while the coronavirus limits public attendance of sporting events. 
The enhanced website will also provide refined student-athlete bios with their team's statistics all on one page. The new bio pages, rosters, and schedules will help retain student-athletes and promote their skills to four-year universities where they can continue their intercollegiate athletic careers. 
The SMCC athletic department has also launched a new Facebook page (@SMCCCougars) where fans can find information, game previews and recaps, feature stories, and other content.
The Maricopa County Community College District will make a final decision on athletics for the 2021 spring semester by Nov. 25, 2020. The MCCCD and Arizona Community College Athletic Conference schools have created tentative schedules for all nine SMCC athletic programs. The MCCCD and ACCAC will release those schedules if a decision to proceed with the 2021 spring athletic competition is approved.
About PrestoSports
PrestoSports is a software-as-a-service company providing technology to colleges and conference offices. Backed by Battery Ventures, PrestoSports delivers solutions for building athletic brands, igniting fans, and funding sports programs.
Battery Ventures formed its sports division in 2017, which included PrestoSports, Stretch Internet, and Black Diamond (SIDHelp). PrestoSports is committed to delivering customers a more expansive suite of software solutions to help them nurture and grow their tight-knit communities of members, fans, athletes, and coaches.