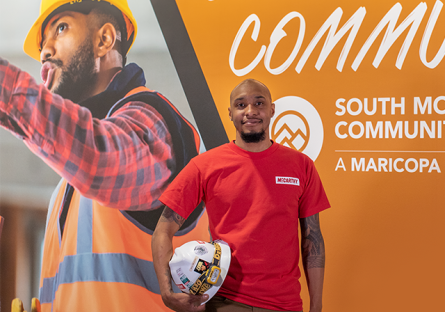 South Mountain Community College (SMCC) graduate Kentrell Billups embarked on a new career with McCarthy Building Companies after completing his one-semester certificate from the SMCC Construction Trades Institute.
Kentrell was part of the first inaugural cohort of students to receive a Framing and Carpentry certificate from SMCC and one to take advantage of the guaranteed interviews offered by the program. 
"My transition to McCarthy after attending the institute was pretty smooth," said Billups as he reflected on the career he chose and his new workplace. "A week before receiving our certificates, the companies actually came in to talk to us and to collect our information for recruitment," he added, as he talked about the commitment from partners such as McCarthy Building Companies, 3-G Construction, and Brewer.
Kentrell, a Marine Corps veteran, moved to Arizona in 2017 and initially enrolled at SMCC and other Maricopa Colleges, seeking a career in architecture. With the COVID-19 pandemic hitting earlier in 2020, Kentrell and his wife sought out new and faster educational options for him, landing in the Construction Trades Institute as a local opportunity for him to support their family. 
"I chose construction, specifically, carpentry because I saw construction as a constant; it was a career you can depend on," Billups said. "It was also a career that could give me opportunities to pursue architecture in the future."
Now, employed by McCarthy Building Companies, Kentrell feels he landed an opportunity to grow at a workplace where he can cross-train in different trades.
"The type of work that I'm doing is fun, and I'm learning something new every day," said Billups. "Even my boss has mentioned knowing both sides of construction will help me in the long run if I pursue architecture."
The SMCC Construction Institute Advising and Veterans Services also played a role in getting Kentrell enrolled and ready by Fall 2020.
"Everyone involved got me to the right place and person to get started," added Billups. "With the pandemic at the first part of the semester in full swing, it was a rough start, but being in class, being hands-on, learning safety, prepared me for the opportunity I have now."
Kentrell is part of a new workforce joining the growing construction work demand in Arizona through the SMCC Construction Trades Institute. He also adds, "it's essential for the companies, for the schools, and for the community as a whole to come together and find out what they want to do next and what's being taught and what's important, what's not important."
The SMCC Construction Trades Institute started with cohorts in Framing and Carpentry, Electrical and Plumbing programs with guaranteed interviews upon graduation. The CTI is committed to supporting the high demand for workforce in construction trades.
"It can only get better from my graduating class to what the institute can bring in the future," said Billups, hoping he can see and reflect upon his time in the SMCC Construction Trades Institute when he is more experienced.