Monday, December 13, 2021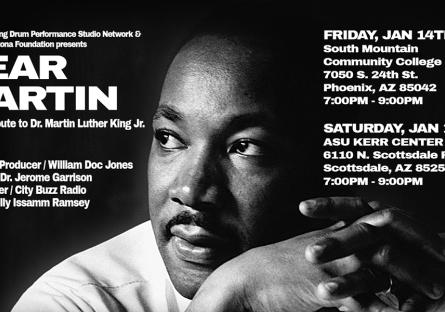 The South Mountain Community College Performing Arts Center will host the stunning musical experience "Dear Martin: A Jazz Tribute to Martin Luther King, Jr." on Friday, January 14, 2022.
Presented by International Jazz Day AZ Foundation, in partnership with Arizona Talking Drum Performance Studio Network, Dear Martin is a live immersive experience of music, storytelling, spoken word, film and movement in celebration of the life and legacy of Dr. King. The performance explores the relevance of jazz to the civil rights movement and connections to iconic figures such as Aretha Franklin and her stance with Dr. King.
"Jazz is triumphant music," said Dr. King in his opening address at the 1964 Berlin Jazz Festival.
These words resonate within the vision of executive producer William "Doc" Jones as he sets the tempo for the celebration of two iconic figures who pushed humanity forward, and the music that surrounded, lifted, led and shook the consciousnesses of souls around the world.
General admission tickets for the event at $25, with VIP seats costing $50. A portion of proceeds from the sale of tickets goes to the SMCC STARS Scholarship as well as to the NextStudent Academy.