Thursday, August 12, 2021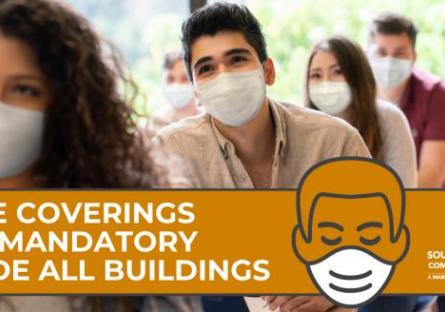 As we move into the Fall semester, we wanted to reach out to students attending South Mountain Community College to share important health and safety information.
 
The CDC has recently upgraded most parts of Arizona, including Maricopa County, to a High level of community transmission of the COVID-19 virus. Students can see an integrated view across the country, state, and county using the CDC's COVID-19 Data Tracking Map.
 
Today, the Maricopa County Community College District (MCCCD) announced that for the Fall, we will again require that all individuals – faculty, staff, students, and visitors – wear facial coverings while indoors at any of our facilities, regardless of vaccination status. It is important that SMCC takes every possible measure to help protect our community's health and safety.
 
Additionally, SMCC is requiring 3-foot social distancing at all times in all areas of the campus, inside and outside.
 
SMCC and the MCCCD care deeply about your health and well-being, as well as supporting you throughout your academic journey. We are looking forward to returning to campus, and we will continue to update you with any changes, or additional Covid related information as it becomes available. Please also visit the link below on the latest updates: https://together.maricopa.edu/returning-campus
 
As a friendly reminder, the first official day of classes is Saturday, August 21, 2021. Check your Student Center and MyInfo App for more specific details and start days and times for your courses.