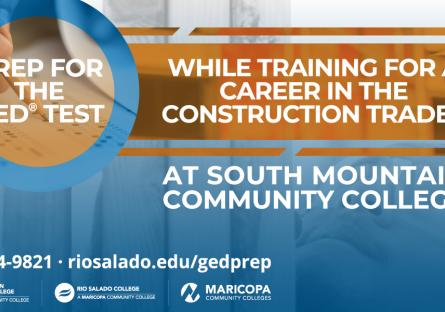 GED® test prep courses are now available at South Mountain Community College through an innovative partnership between SMCC and Rio Salado College.
Held onsite at SMCC, the new program provides an opportunity for students to enroll in one of the Construction Trades Institute (CTI) programs at SMCC while simultaneously taking Rio Salado's adult education courses in pursuit of a high school equivalency diploma.
Students aren't required to enroll in the CTI program, but this enhanced opportunity allows students to not only earn their GED®, but also finish with a certificate and training in a new job-ready career in the carpentry, plumbing, or electrical field.
The GED® Test Prep program also features:
Dedicated staff focused on helping students enroll in the program and prepare for success
A separate onsite classroom on the SMCC campus, with convenient and easy access for the public
In-person GED® test prep courses, two days per week, three hours per day
In-person construction trades courses, one day per week
CTI certificates can be earned in just one semester
Scholarships are available for students to pay for the CTI program.
Program cohorts are starting every seven weeks, and will take place in the North Campus Complex (NCC) Building on the SMCC campus. For more information or to enroll in the program, please call: 480-517-8181