Tuesday, November 23, 2021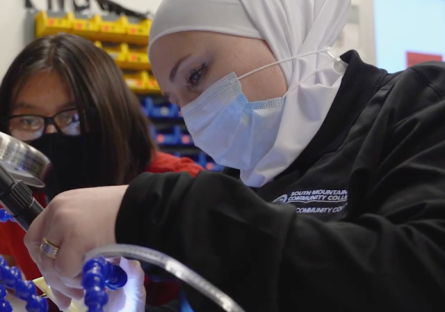 Engineer Your Future!
PHOENIX, Nov. 23, 2021 - The Maricopa County Community College District (MCCCD) offers engineering students cutting-edge technology and coveted industry experience with South Mountain Community College's (SMCC) engineering lab.
For SMCC engineering students David Appelo-Hunt, studying aerospace engineering, and Marquairah Salizar, studying civil and environmental engineering, the engineering lab propels them one step closer to achieving their dreams.
"It's really interesting to me that we were able to get from the earth to the moon with the technologies of the 1900s," said Appelo-Hunt. "I'm interested in making those rockets, and making it to Mars in our new age."
For Salizar, earning an engineering degree will help her bring change to the community she grew up in.
"I'm from the Navajo reservation, and with the education that I want to pursue in civil and environmental engineering, I would like to go back home to support the many people who have no access to water and electricity," said Salizar. "I'd like to help with the water treatment and purification, and find solutions to that problem."
Born of a partnership between SMCC and Base 11, the engineering lab is a campus-based MIT-inspired FabLab. Complete with manufacturing equipment students use through formal courses or innovative individual projects, the engineering lab prepares students for 21st century STEM jobs with the hands-on experience benefiting students and industry.
Watch the video to learn more about SMCC's engineering lab from Salizar and Appelo-Hunt, in addition to hearing from engineering staff and faculty.