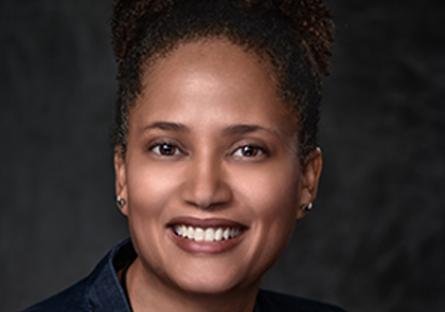 The Maricopa County Community College District (MCCCD) is pleased to announce that South Mountain Community College Professor Dr. Sian Proctor has been named among the final crew members to join Inspiration4, the world's first all-civilian mission to space. Dr. Proctor joins a four-person crew that will undertake a historic voyage to the stars later this year. Other crew members include Christopher Sembroski and Hayley Arceneaux, under the command of Jared Isaacman. SpaceX's Falcon 9 rocket will launch the crew aboard a Dragon spacecraft later this year.
The full crew will be introduced publicly today for the first time from historic Launch Complex 39A at Kennedy Space Center in Florida.
Dr. Proctor and Sembroski will represent the mission pillars of:
Prosperity – Dr. Proctor, a 51-year-old entrepreneur, educator, trained pilot and active voice in the space exploration community, was awarded her seat by being selected as the top entrant of an independently judged online business competition that attracted approximately 200 entries and was conducted by the eCommerce platform Shift4Shop.
"This opportunity is proof that hard work and perseverance can pay off in unimaginable ways," said Dr. Proctor. "I have always believed that I was preparing for something special, and that moment has arrived with Inspiration4."
Dr. Proctor will serve as the Mission Pilot and back up the commander and support related needs throughout the mission.
Generosity – Sembroski, a 41-year-old aerospace industry employee at Lockheed Martin and United States Air Force veteran, contributed to a special fundraising campaign for St. Jude Children's Research Hospital® that offered an Inspiration4 seat to a lucky donor after receiving nearly 72,000 entries. Since it was first announced in February, the campaign has raised approximately $113M with new support opportunities to come in the near future, including chances to sign up at https://www.stjude.org/get-involved/other-ways/inspiration4.html and fundraise to qualify for Inspiration4-themed incentive items, special experiences, collectible merchandise, flight-related campaign information and more.
Inspiration4 is completed by the other mission pillars of Leadership, represented by Isaacman, and Hope, represented by Arceneaux. Isaacman, the 38-year-old founder and CEO of Shift4 Payments and a world record-holding pilot, created the Inspiration4 mission and donated the three crew seats to inspire humanity and raise money for the lifesaving mission of St. Jude. Arceneaux is a 29-year-old physician assistant who works at St. Jude Children's Research Hospital in Memphis, TN and joined Inspiration4 last month. In addition to working at St. Jude, she was treated as a child for bone cancer at the preeminent care and research hospital and vowed to return to serve others. Arceneaux will serve as Medical Officer overseeing medical care and experiments on the mission.
"Inspiration4's goal is to inspire humanity to support St. Jude here on earth while also seeing new possibilities for human spaceflight," said Isaacman. "Each of these outstanding crew members embodies the best of humanity, and I am humbled to lead them on this historic and purposeful mission and the adventure of a lifetime."
All crew members will undergo commercial astronaut training by SpaceX on the Falcon 9 launch vehicle and Dragon spacecraft – the very same Dragon spacecraft currently attached to the International Space Station supporting the Crew-1 mission. Once Dragon returns the Crew-1 astronauts back home to Earth, the SpaceX team will inspect and refurbish the spacecraft ahead of the Inspiration4 mission. Crew member training will include a specific focus on orbital mechanics, operating in microgravity, zero gravity, and other forms of stress testing. The crew will receive emergency preparedness training, spacesuit and spacecraft ingress and egress exercises, as well as partial- and full-mission simulations.
The mission is being targeted for no earlier than Sept. 15, 2021. It will launch from historic Launch Complex 39A at NASA's Kennedy Space Center in Florida and will be carefully monitored at every step by SpaceX mission control as the spacecraft orbits the planet every 90 minutes along a customized flight path. The crew is targeting an approximate 540 km orbit, flying further than any human since Hubble, for an expected mission duration of approximately three days. In advance of the mission, the crew is working closely with SpaceX and multiple organizations to identify scientific research opportunities they can support while in orbit. Upon conclusion of the multi-day journey, Dragon will reenter Earth's atmosphere for a soft water landing off the coast of Florida.
To learn more about Inspiration4 and how to support and follow this historic journey to space, visit www.Inspiration4.com and follow the mission on social media on Twitter (@inspiration4x), Facebook (@inspiration4mission), Instagram (@inspiration4) and YouTube (@Inspiration4) to receive the latest news on mission training, preparation and timing.