Thursday, December 2, 2021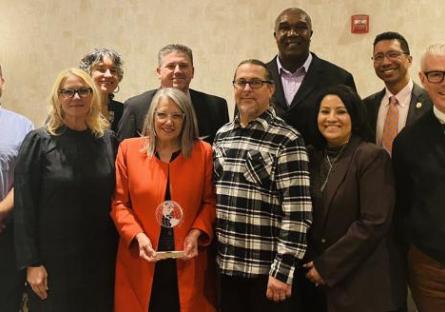 South Mountain Community College President Dr. Shari Olson was presented with the 2021 Paul A. Elsner Excellence in Leadership award by the Chair Academy at its awards banquet held on November 19 in Scottsdale.
The award is named after the former chancellor of Maricopa County Community Colleges, and a key figure in the origins of the Chair Academy. Paul Elsner's support and vision along with founder of the Academy, Gary Filan, paved the way for the creation of Academy programs that provide the essential skills, preparing aspiring leaders to move into leadership roles.
According to the Chair Academy, the annual award "recognizes outstanding individuals who exemplify outstanding leadership, support the Academy and its programs, and model the way as a transformational leader. Shari Olson exemplifies these attributes."
Dr. Olson also received the Exemplary Leadership award in 2008, and has been a vocal supporter of the Academy, encouraging her leaders to attend programs, as well as hosting several of the programs at the SMCC campus.