Tuesday, November 2, 2021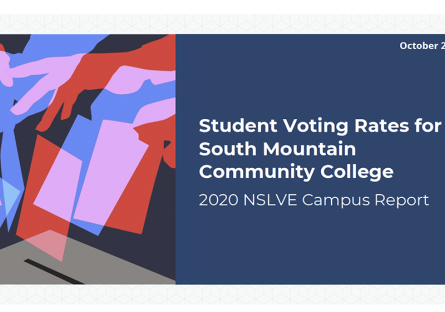 South Mountain Community College (SMCC) today reported that student voting on its campus increased in last year's presidential election, rising to 55 percent in 2020 from a rate of 44 percent in 2016.
Despite many voting drive and awareness efforts that were canceled due to the pandemic, SMCC continued voter awareness efforts to its students through strong digital outreach and engagement campaigns in an effort to help educate and motivate the campus community.
In March of this year, SMCC was one of 230 college campuses nationwide designated as a "Voter Friendly" campus, and the college continued to bolster efforts in helping students overcome barriers to participating in the political process.
Today's report comes from the Institute for Democracy & Higher Education (IDHE), creators of the National Study of Learning, Voting, and Engagement, or NSLVE. IDHE is located at Tufts University's Tisch College of Civic Life.
Nationwide, the study's authors report a record-breaking set of findings. On campuses across the country, students built on the momentum swing of 2018 and voted at high rates in the 2020 election, with voter turnout jumping to 66% in last year's presidential election. The 14-percentage point increase, from 52% turnout in the 2016 election, outpaces that of all Americans, which jumped 6 percentage points from 61% to 67%, according to the U.S. Census Bureau.
"That students, often younger and first-time voters, turned out at rates commensurate with the general public is nothing short of stunning," said IDHE Director Nancy Thomas. "We attribute this high level of participation to many factors, including student activism on issues such as racial injustice, global climate change and voter suppression, as well as increased efforts by educators to reach students and connect them to the issues and to voting resources.
"We are thrilled by the growth in voter turnout on our campus, especially considering the chaos that Covid-19 created," said SMCC's Vice President of Student Development Dr. Osaro Ighodaro. "There's still more work to do as we continue on our ongoing efforts to drive education, registration and turnout."
"It's exciting to see the amount of support we continue to receive from faculty and staff in support of civic engagement," said SMCC faculty member Dr. Cate McNamara, who has helped spearhead many of the campus efforts. "We've built a lot of momentum, and we will do our best to keep it moving forward long into the future."
IDHE's National Study of Learning, Voting, and Engagement (NSLVE, pronounced n-solve) is the nation's largest study of college and university student voting. Institutions must opt-in to the study, and at this time, nearly 1,200 campuses of all types—community colleges, research universities, minority-serving and women's colleges, state universities, and private institutions—participate. The dataset reflects all 50 states and the District of Columbia and includes 49 of the nation's 50 flagship schools. IDHE uses de-identified student records to ensure student privacy. The 2020 dataset is robust with 8,880,700 voting-eligible students representing 1,051 colleges and universities.
Founded in 1979, South Mountain Community College serves one of the most diverse area of the greater metropolitan Phoenix area, combining a rich mix of rural, urban and suburban communities. SMCC has been federally-designated as a Minority Serving and Hispanic Serving Institution, with more than 75 percent of the college' students identifying as minority, and more than 80 percent identifying as first generation. SMCC provides a strong mix of both academic and transfer related degree and certificate programs, as well as career-ready CTE programs, such as through its innovative Construction Trades Institute. The college has also received nine Bellwether Award finalist nominations over the past six years, which highlights nationwide, cutting-edge programs and services at community colleges.