Tuesday, January 25, 2022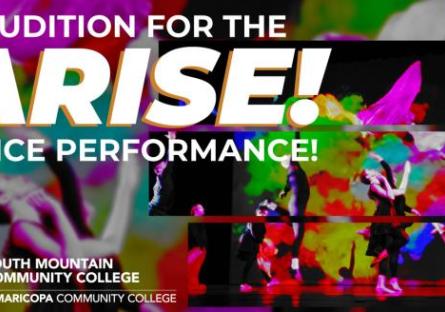 Audition for ARISE!
ARISE! Dance Concert will focus on Moving Forward coming into existence as SMCC takes action!
Enroll in choreography, or any movement class and performance class to audition first week of classes in the DANCE room PAC 728 and participate in ARISE!
Enroll in and audition for ARISE!
DAN264 (23143) CHOREOGRAPHY I >Tu Th 1-2:15PM PAC 728 DANCE ROOM meets from March 1 to May 12th, 2022
DAN265 (23144) Choreography II >Tu-Th 1-2:15PM PAC 728 DANCE ROOM meets from March 1 to May 12th, 2022
SATURDAY CLASSES
DAN 101AC-0001 (35782) Social Dance: Latin> Salsa, Samba, Merengue, Cha cha cha, Bachata, Cumbia, Rumba, corridas y polkas Mexicanas (Lecture & Lab) Sa 9:00AM - 10:50AM PAC 728 Dance room
Saturday classes meet from Feb 26, 2022- Apr 30, 2022
DAN 120AB-0001. (35708). World Dance: Flamenco, Tangos, Rumba and Sevillanas (Lecture & Lab) Sa 11:00AM - 12:50PM PAC 728 Dance room
Saturday classes meet from Feb 26, 2022- Apr 30, 2022
DAN 150-0002. (37187) Dance Performance I (Lecture & Lab) TBA contact Professor for audition for DANCE PERFORMANCE meets from March 1st to May 12th, 2022
Email professor Liliana de Leon-Torsiello, MFA for more info: Liliana.deLeon@southmountaincc.edu