Friday, September 30, 2022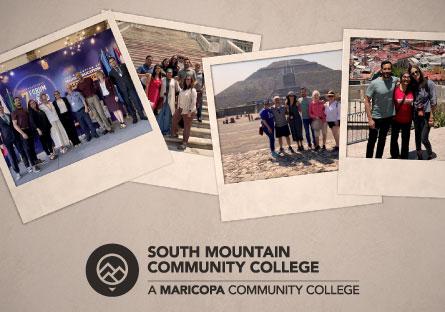 This summer five Maricopa faculty – Rose French, Azra Mahmood, Teryl Sands, Christine Raack, and Cristian Villeagas – were selected for the Global Engagement Faculty Curriculum Development Program to Mexico. The group was led by Jaime Herrera, English Faculty at Mesa Community College in his final Global Engagement Faculty Curriculum Development Program trip to Mexico for Maricopa Community Colleges as he retired this year.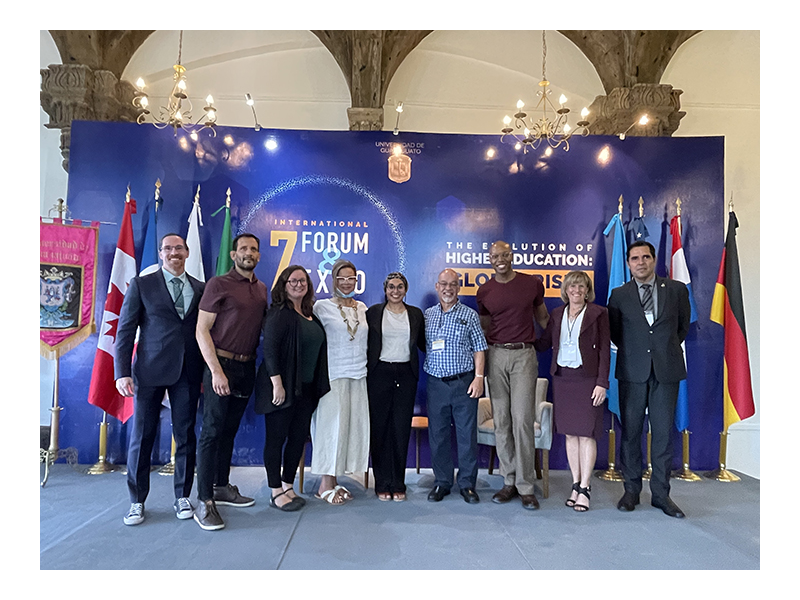 "Over the past fifteen years of the Memorandum of Understanding (MOU) between the Maricopa Community Colleges and the University of Guanajuato, it has been an honor and a pleasure taking over 100 Maricopa faculty to Mexico during my years of service," Herrera said. "Everyone who has been involved over the years, on either side of the border, have built bridges between my two homelands, Mexico and the United States."
Helping build those bridges has given me great joy and satisfaction." For me, one of the greatest benefits of this program was getting to know my colleagues as we learned, traveled, ate, and experienced Mexico together." Herrera said.
This September the University of Guanajuato invited our faculty back again to participate in the 7th International Forum and Expo for Academic Collaboration: "The Evolution of Higher Education: Global Risks." Six MCCCD faculty, including French, Mahmood, Raack and Villegas, along with L. Alexander Patrick and Andrea Rivers, returned to Mexico on September 12, 2022 for this week-long International Expo. There, the group was given the opportunity and a platform to share about Maricopa Community Colleges District.
Presidents Kate Smith from Rio Salado College and Greg Petersen from Chandler-Gilbert Community presented as keynote speakers, while others of us presented and were panelists for the program discussing key issues for accessibility of higher education for students. The two presidents represented MCCCD leadership very well in their keynote address titled: "Teaching Skills That Remain Relevant in a Changing World" This enriching experience furthermore exemplifies how collaboration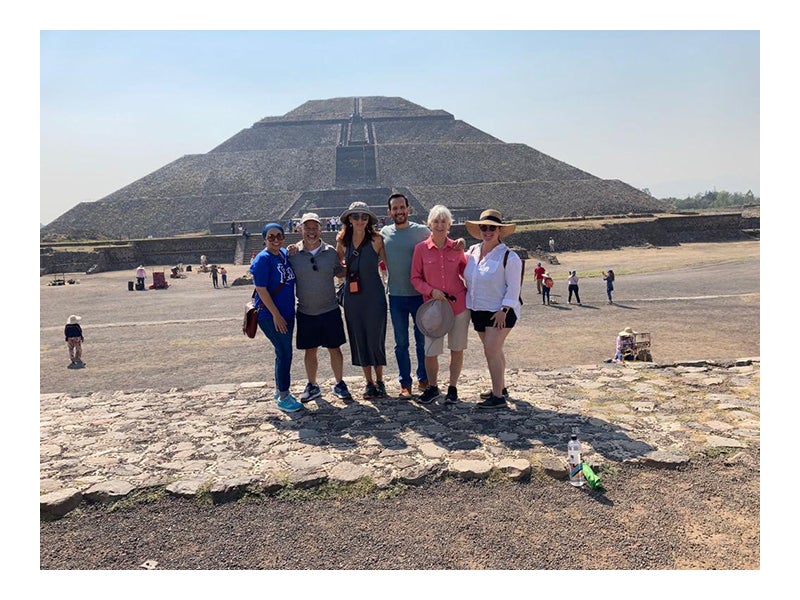 is critical for higher education globally and just how much higher education has changed since the pandemic.
MCCCD was honored by the University of Guanajuato with a gold medal award recognizing professor Herrera's hard work and efforts over the years in building the connections for both institutions of higher education. His dedication to engaging faculty into Mexican culture and improved understanding of Mexico embodies what it means to be designated by the federal government as HSI institutions.
Here are some thoughts shared by the faculty reflecting about their overall experience and what they gained from this extraordinary opportunity:
"For me, this trip further solidified connections we have to our neighbors and global partners. It also highlighted the value of our global citizenship as we worked together, learned from one another, and shared with younger generations to inspire persistence in the face of adversity. They know they have support, even when it is difficult to see." -L. Alexander Patrick, Sociology Faculty at Glendale Community College.
"The entire experience was impactful on how I want to shape my work in the future. I'm grateful for Jaime Herrera's work in providing such an incredible opportunity for faculty to be immersed in Mexican life and culture. In addition to all the experiences we had as a part of the program, I was fortunate to work with the horn students at the University of Guanajuato and perform with the orchestra during my time there. I am currently working on three long-term projects to give our students the opportunity to perform with musicians in and from Mexico, including having Phoenix College music students perform in Hermosillo in the spring of 2023. With most of our colleges being Hispanic Serving Institutions, I feel that this immersion experience gives faculty the opportunity to learn about the rich culture and history of Mexico. Instead of living in another country as a tourist, we have the opportunity to experience daily living in a culturally-rich town of Guanajuato and experience some of the most remarkable aspects of Mexican history by the museums and sites visited in the greater Mexico City area. The language immersion was also incredibly helpful for me to work to be more comfortable speaking Spanish on a daily basis about a variety of topics. I also was able to make connections in my field of music to work with the Orquestra de Guanajuato and some of the music faculty at the University of Guanajuato." - Rose French Coordinator of Instrumental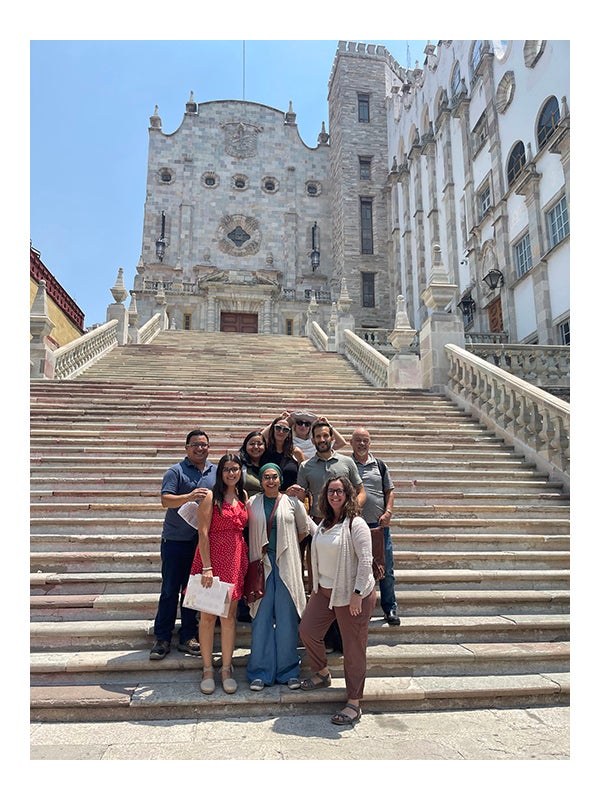 Music Faculty at Phoenix College
"I can't even express how much this experience has impacted my life in both ways, professionally and personally. My collaboration with faculty at the University of Guanajuato not only inspired the beginnings of several research projects but also made me realize how similar the challenges and opportunities are that we share as educators in a global context. Moreover, being part of my host family while staying in Guanajuato has been incredible. I truly appreciate the experience of gaining new friendships, practicing my Spanish and expanding my awareness of family and social life in our neighboring country. - Christine Raack, ESL/English Faculty at South Mountain Community College
"I was fortunate enough to travel to Guanajuato during the celebration of Mexico's independence with the festive and bustling streets, street food stalls and whimsically designed buildings that seem to tumble down the hills that surround it in every color. I remember on one occasion, I got pleasantly lost as I made the trek from my hotel into town. Because I did not know the language, I felt like a fish out of water as I struggled with my limited Spanish to get to my destination. This is the experience all educators need—to know what it is like to be misunderstood. In such moments, you learn how to adapt, rather than expect others to adapt for you. My time in Guanajuato with its hues of fuchsia pink mingled with pillar box red, saffron yellow, baby blue, and lime green has colored my world and it will color your students' world, too when you come back." - Andrea Rivers, English Faculty at South Mountain Community College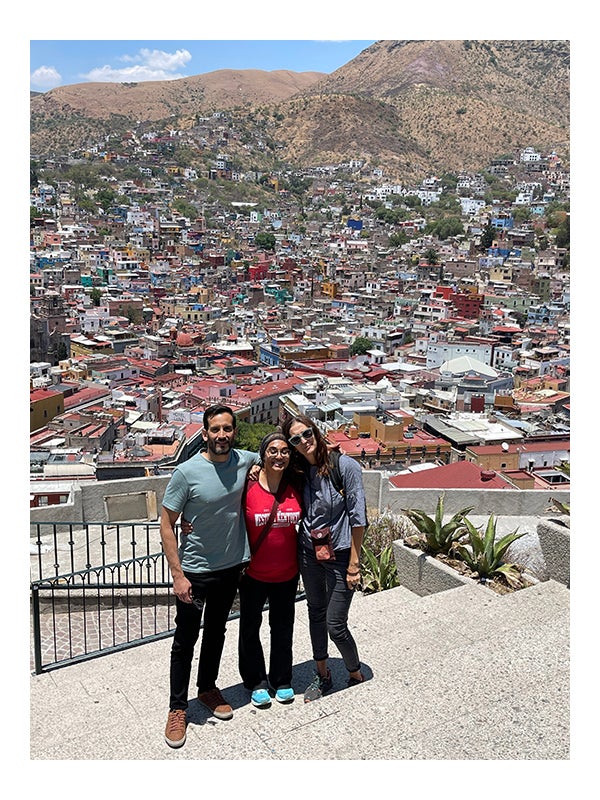 "I am so grateful and humbled by this opportunity to submerge myself into Mexican culture. There was an outwardly togetherness displayed amongst people all throughout the cities we visited that helped me connect culturally. I have never been to Mexico before this trip, however being a participant of this beautiful program gave me a new lens of intercultural competence that has been transformative that I will forever treasure. The experience submerged me into the full richness of Mexican culture and provided a new perspective towards the traditions and its people. This experience allowed me to develop more empathy and understanding of my hispanic students. I am now able to relate with many of my students on a deeper level due to my familiarity with the nuances of Mexico's regions as well as personal reference points to create connections in a more meaningful way. For example, I am now collaborating with a professor at the University of Guanajuato piloting a cross-cultural exchange and assignments with our Intercultural communication students and we will be working on co-presenting and co-publishing together in the near future." - Azra Mahmood, Communication Faculty at South Mountain Community College
Cheers to Jaime Herrera! Maricopa is forever grateful for all your work and energy you put into this program and we are happy to know it will continue onward with Cristian Villeagas from South Mountain Community College.
Look for the application submission process for this program this 2023 upcoming year. For more information you can always contact MCLI or Cristian Villeagas.