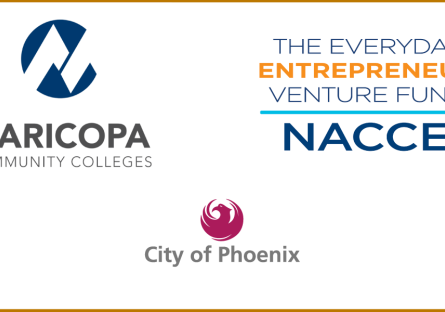 May 2022 – MCCD, City of Phoenix, and NACCE/EEVF Phase II Small Business Venture Funding Program - Announcement of Winning Cohort for Spring, 2022
Several Maricopa Colleges are participating in a collaboration with the National Association for Community College Entrepreneurship (NACCE), Everyday Entrepreneurship Venture Fund (EEVF) and the City of Phoenix. The collaboration is part of the NAACE/EEVF Venture Fund phase II program which is raising money to provide capital to Maricopa student-entrepreneurs for start-up and scale up of small businesses. Faculty and Development Directors from the Maricopa Colleges participating with support of the Maricopa Colleges Foundation, have raised a venture fund from local donors, including the City of Phoenix, along with grant funds from NACCE/EEVF. The City of Phoenix support of $20,000, along with a $20,000 grant from the National Association for Community College Entrepreneurship, will help ignite young entrepreneurs across Phoenix and Maricopa County.  To-date the colleges have raised more than $50,000.
In May 2022 the third cohort of student-entrepreneurs were selected to receive $2,500 each for the launch and expansion of some interesting and exciting small businesses.  In addition to start-up capital the student-entrepreneurs receive ongoing mentoring and advising from the Maricopa Small Business Development Center, and campus faculty and staff.
The student-entrepreneurs awarded capital funds are:
City of Phoenix Entrepreneurship Grant
Maria Pina - Glendale Community College: Maria is growing MVP Housekeeping & Concierge Services – a Resort-style cleaning and personal assistance service.  
Tifa Holman - Phoenix College: Tifa is expanding Art Thou Tifa – creating healing visual art in the form of two-dimensional and three-dimensional art.
NACCE/EEVF Student Venture Fund
Sandra Shockley-Jones - Glendale Community College: Sandra is creating S&S Express Heavy Transport. LLC – providing heavy equipment transportation to construction and mining sites.
Isis Comma - South Mountain Community College – Isis is creating the Empower Mentor Group (EMG) – an organization focused on empowering marginalized and disenfranchised populations via professional development and technology education.
Sara Hall - Phoenix College: Sara is expanding Sara's Custom Cosplay & Design – which creates custom costumes and special occasion garments for individuals, and is looking to branch out and create a bridal line for customers.
Another cohort will be launched in the fall 2022 semester – watch for the announcement to apply!
Special Thanks to: