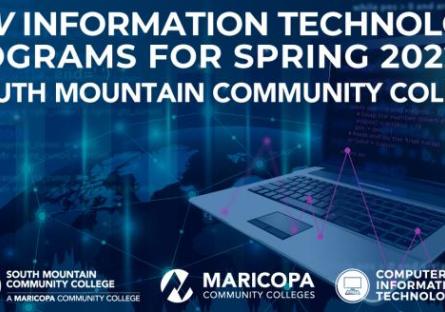 South Mountain Community College has launched a number of new Computer and Information and Technology programs for the Spring 2022 term, including Cloud Computing, iOS development, MATLAB and Python II.
Cloud Computing
Cloud Computing is the future of IT and holding even just the first certification can earn new workers a starting salary of $70,000+. Now, for the first time, in Spring 2022, SMCC is offering CLD110 (Amazon Web Services Cloud Foundations). Additionally, CLD130 (Amazon Web Services Cloud Developing) and CLD140 (Amazon Web Services Cloud Operations) will also be offered for those who have already taken CLD120 or have the Amazon Web Services Cloud Architect Associate certification.
iOS Cohort
In 2021, Americans, on average, spent between five and six hours every day on their mobile phones, and even before the pandemic, that number continued to climb. Now, in the age of Covid and remote work and life, the mobile phone has become a near mandatory device needed in our everyday lives.
Built into the structure of the nearly three billion smart phones in use worldwide are the apps that allow us to do everything we need and more. How are these apps made? Is there an idea for an app that you have that just has not come to fruition?
Join the SMCC iOS Cohort for Spring 2022 and your will learn how to make apps for iOS as well as make your very own app. This cohort focuses on your success, and past cohorts have had a 100% completion rate. If you have any programming experience, join us in the iOS Cohort this Spring and see your idea spring from dream to screen.
MATLAB
Millions of engineers and scientists worldwide use MATLAB for a range of applications, in industry and academia, including deep learning and machine learning, signal processing and communications, image and video processing, control systems, test and measurement, computational finance, and computational biology.
If you're planning to transfer to university for math, science, or Engineering; if you're currently at a university for these subjects with no experience in MATLAB; or if you simply want to be more confident in software used by industry and academia worldwide, sign up for the NEW ECE105 MATLAB Programming class at SMCC.
SMCC worked to obtain access to MATLAB software for free to students. The course also works to prepare students to receive certification in MATLAB. Imagine having the ability to go into your future STEM course with more confidence as you actually have experience with MATLAB.
Python II
For the first time, Python Level II will be offered in the Maricopa County Community College District. SMCC will be one of the colleges offering this course in Spring 2022, including both in person and live online. The course digs deeper in to what a programmer can do with Python and also looks at some current trends in the industry using Python for web development, data analytics, networking, cybersecurity, and more.
Join us for this first of three NEW Python courses that will lead to a certificate of completion in Python Applications.
For information on any of these amazing new programs, contact IT faculty Christopher Stevens