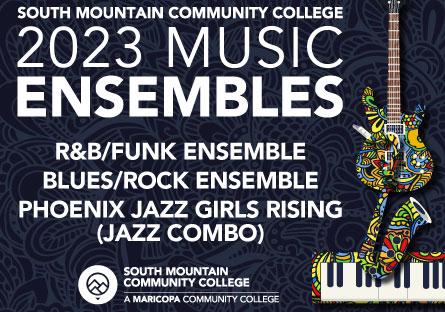 South Mountain Community College is now offering several new ensembles for current and prospective students! All experience levels are welcome to join and enjoy learning about the music America has to offer through performance experience and faculty instruction.
R&B/Funk Ensemble
Dedicated to learning African-American popular music from the 60's, 70's, & 80's SMCC's R&B/Funk Ensemble gives students the chance to "get funky" and develop their rhythm and soul.
MUP158: 34974 In Person Mondays 3:30 PM - 5:20 PM 01/14-05/12/2023
Blues/Rock Ensemble
Dedicated to classic rock and blues music SMCC's Blues and Rock Ensemble gives musician's a chance to develop their ears, rhythm, and engage with one of America's (and Britain's!) great exports: ROCK.
MUP158: 34975 In Person Fridays 10:00 AM - 12:30 PM 01/14-05/12/2023
Phoenix Jazz Girls Rising (Jazz Combo)
Phoenix Jazz Girls Rising is designed to teach young female musicians the basics of jazz, improvisation, and how to express their individuality through music. Students will study well known jazz tunes as well as song form and other basic musical concepts. ALL skill levels are welcome!
MUP183: 35028 In Person Saturdays 10:00 AM - 12:45 PM 01/14--5/12/2023