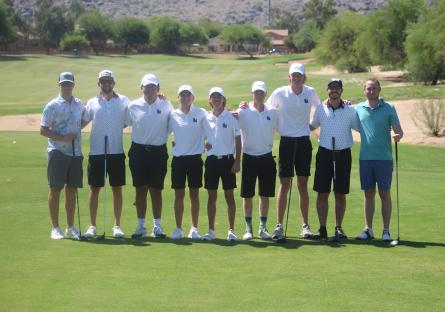 The South Mountain Community College softball and men's and women's golf programs had a successful time at the first annual Cougar Golf Classic on Aug. 13 at Legacy Golf Resort in Phoenix. The Cougars had more than 60 participants at the event and raised more than $11,000, split among the three programs to further their efforts on the diamond, the links, and the classroom.
"The day was a huge success mainly due to the support from our sponsors and golfers, but also the seamless help from the staff at Legacy," said SMCC softball head coach Brittney Matta. "The course was beautiful, and the weather was great. We are grateful and look forward to making it even better next year."
In addition to 18 holes of golf, players received lunch and prizes, and the event also featured a silent auction. The items up for bid included rounds at Troon Golf Club, Kierland Golf Club, golf equipment, and SMCC athletic apparel.
The SMCC Men's Golf Team won the 2022 NJCAA Division II National Championship in May, the team's eighth National Championship title in program history. Former SMCC head coach Chelsea Carroll became the first woman in NJCAA history to lead a men's team to a National Championship in any sport. Sophomore Cecil Belisle won the NJCAA Division II individual National Championship for the second-straight year and transferred to the University of Kansas.
The SMCC Women's Golf Team received 2022-23 NJCAA Academic Team of the Year honors after posting the top team GPA of all NJCAA women's golf programs in the nation. The team enjoyed a stellar spring season in 2022, finishing eighth at the NJCAA Southwest District Championships. Individually, freshman Kylie Rehberger earned All-District, All-Region and All-Conference honors and competed at the NJCAA National Championships.
The SMCC softball team went 34-24 in 2022 and qualified for the Region I Division II postseason tournament for the second-straight year. Freshman Kate Hogan received National Fastpitch Coaches Association First Team All-American honors after she batted .503 with 87 hits and 62 runs in 56 regular-season games. After the season, Hogan and nine of her teammates transferred to four-year institutions to continue their intercollegiate softball careers.