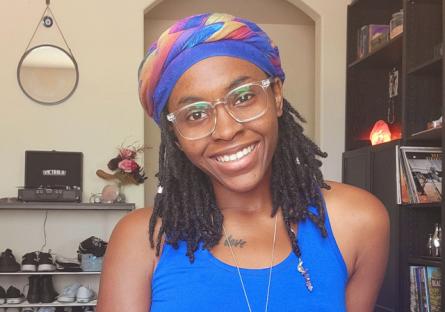 South Mountain Community College student Christa Roberts recently won the Center for Entrepreneurial Innovation Big Pitch Competition for their submission, Altalune Mystics, and won $15,000 to now help their business grow.
Altalune Mystics focuses on birth care for people at all stages of the cycle, from fertility to prenatal care during the pregnancy to postpartum and child education.
"Everyone needs self-care and that extra boost at times. What we stress at Altalune Mystics is to take care of yourself. We want to change the narrative around birth so that it is not so medical and clinical. It should be enjoyed and taken celebrated," Roberts said.
Originally from St. Louis, Mo., Roberts grew up in a big household and found themselves caring for family members at a young age. That early start led them to follow their passions, and they have spent the past 10 years as a birth worker. Another term used to describe Roberts's work is doula, although they focus mainly on birth work and child education.
A behavioral health major, Roberts applied for the Big Pitch Competition at the beginning of the semester and was one of three SMCC students selected to attend a three-day business boot camp put on by the Center for Entrepreneurial Innovations. This year, the Big Pitch Competition had the largest prize pool in its history ($25,000) and its largest candidate pool.
Led by business faculty and instructors from throughout the Maricopa County Community College District, Roberts credits the boot camp with giving them the confidence to package and explain the scope of their business.
"The boot camp was great, and it was valuable to me because of how in-depth we went discussing information related to business financials or how to nail down a topic and audience. We practiced pitching our businesses during the three days, and although I wasn't sure how the judges would receive my business, it was a great confidence boost and allowed me to hone in and get specific," Roberts added.
After the boot camp, Roberts and their fellow applicants had a week to finalize an online pitch deck. When they heard they had progressed to the next stage of 10 competitors, they had a week to prepare an in-person presentation in front of judges from MCCCD and Fortune 500 companies in Arizona. In the end all the hard work paid off and Roberts walked away with the top prize.
"I think my business stood out for being specific, which helped me. I know my audience and my practice, and the competition allowed me to speak freely on what I know," Roberts said.
"With the larger prize pool the level of competition was much higher; Christa's business stood out as she is helping an underserved market and her pitch was well structured and organized," said Bruce McHenry, an SMCC business faculty member. 
Roberts also points to their time at South Mountain CC as a pivotal step in their business development. They are a 90/30 student receiving an AA in Behavioral Health and then transferring to Northern Arizona University to complete their Bachelor's Degree. However, they will not have to move to Flagstaff and take most of their NAU courses at SMCC.
"SMCC has affected my business for the better substantially. I am one of the first in my family to attend college, and I jumped into it naturally after the first time I met my advisor," they said. "SMCC has provided me with the self-accountability in my practice, and the professors have been amazing. It has been great to have professors teaching multiple classes and have that continuity and intimacy in the Behavioral Science program. It has been a lot of support I didn't expect."
Their five-year plan includes graduating from NAU and perhaps going to school to be a midwife so they can provide medical support. From there, they want to open a birthing and doula training center. Ultimately,  they want to provide more representation for minority communities and change the maternal health disparities.
"I want to thank Mark Sanders from NAU and all the SMCC behavioral health professors. They have been so influential in my growth and have been encouraging," Roberts said. "I appreciate the openness of how supportive everyone has been."
For now, Roberts offers childbirth education and classes, online and in-person as well as  classes for those who are more self-paced learners. They also have in-person activities for local community members to provide education and intervention for those needing help. Roberts is also an herbalist and has an Esty shop where customers can buy herbal products to promote healthy lifestyles.
"Our goal is to change the narrative of birth. We want to provide more natural support so that expecting parents don't have to feel like they are unsupported or even unseen."