Monday, December 12, 2022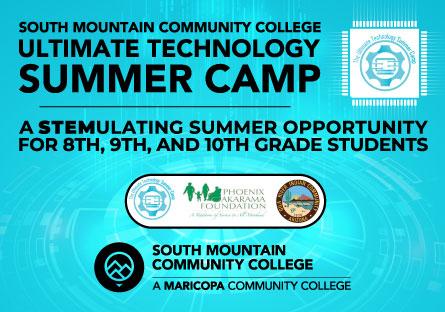 A STEMulating Summer Opportunity for 8th, 9th, and 10th Grade Students
The Ultimate Technology Summer Camp provides 1 week (4 days) of in-person activities focused on Raspberry Pi content.
Appllcatlon Deadline: May 19, 2023 Summer Camp Dates:
Session 1: June 5 -8
Session 2: June 12 -15
Time: Half day camp 8:30 AM - 12:00 PM
Cost: Selected students are asked to pay $250 to secure their spot in the program
Scholarships are available. Students will be notified of acceptance via email. If accepted you must confirm participation. Space is very limited.
Each day focuses on emerging technologies where students will:
Students will receive 1 CIS Credit hour
Experience assembling a computer
Learning basic block coding with Scratch
Gaining exposure to text-based programming with Python
Visit southmountaincc.edu/UTSC to apply! (and get more information there too!)