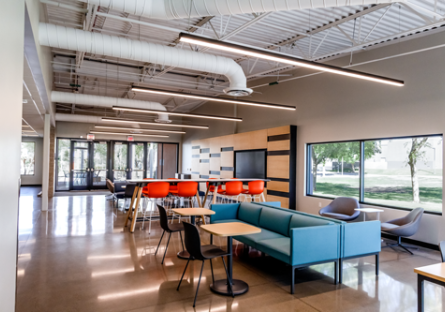 PHOENIX – South Mountain Community College (SMCC) is bringing the community together to celebrate the grand opening of the 34,000 sq. ft state-of-the-art Science Complex on August 12 at 9 a.m.
The one-year long renovation and construction project spearheaded by McCarthy Building Companies Inc. and imagined by Gensler Design has culminated in a new modern and contemporary complex for the Physical and Life Sciences program at SMCC.
For more than 40 years, SMCC has fostered students pursuing STEM careers and supported student success with its former facility. Coupled with the renovation of two existing buildings, this new addition to the college ensures students will receive the highest and latest quality of education on our campus.
"Our students deserve a space to pursue their dreams of becoming engineers, scientists, and medical professionals," said SMCC President Dr. Shari Olson. "The community in South Phoenix needed this new facility, and we're bringing it to them with the latest technology and labs to help students pursue their desired careers."
SMCC and Maricopa Community Colleges Leadership, MCCCD Governing Board Members, McCarthy Building Companies, Gensler Design, elected officials, and community members will join the grand opening this Fall 2022 for a first look at the complex and its unique design.
"McCarthy values STEM education programs and having the opportunity to be part of making this project a reality in South Phoenix is something we're all very proud of," said Mike Gonzalez, vice president of McCarthy Building Companies Education group. "Thanks to the extensive collaboration with SMCC and its program end-users, the designer and our trade partners, we found solutions to challenges and this remarkable new Science Complex is being delivered earlier than planned to help more SMCC students pursue their dreams."
The new SMCC Science Complex features the latest classroom technology and labs by integrating a "forward-thinking" floor plan and a contemporary look with lab support areas, faculty offices, and creative learning spaces. This renovation will also include a new cadaver lab, a much-needed facility for faculty and students pursuing degrees in the healthcare fields.
The Science Complex was also created as a space to help prepare students for STEM careers, and to continue fostering community within the campus with an integrated botanical garden and shared sticky spaces.
Classes will be offered in the newly constructed Science Complex starting in the Spring 2023 semester.
---