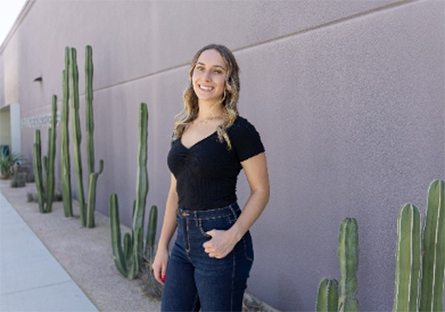 Madison Cadden has been on the volleyball court since she was a 12-year old fourth grader, and throughout her elementary, high school, and college education, Cadden has thrived as both an athlete and a student who is focused and willing to go beyond.
Originally from the East Valley in Queen Creek and Gilbert, Arizona, she first became interested in sports when she saw her mom as both a coach and referee. After choosing volleyball as her sport, her athletic career took her on a journey of competition, friendship, and discipline.
A high school graduate of Mesquite High, her love of sciences and connection with the volleyball coaches and staff helped her choose South Mountain Community College for her college education.
"I saw my coaches as mentors," Cadden said. "Pat Mooney, my coach, and advisor, supported me and my priorities as a student while still helping me succeed in the volleyball court."
Becoming an athlete and a pre-nursing major was a challenge, requiring her to be disciplined and dedicated to succeeding in all aspects of her career.
"It was a challenge to choose a career as demanding as pre-nursing as well as being a college athlete; I had to learn time management quickly," Cadden said. "My career path has always been to help others and becoming a Nurse Practitioner felt like the right choice for me at the time."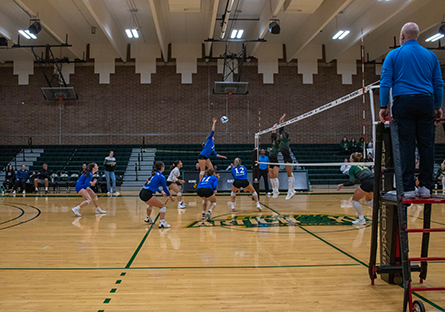 In the Fall of 2022, Cadden earned Second Team All-AACCAC honors and received a place on the All-Region I Division II Team. She was also an Honors Program student and a recipient of the President's Honor Scholarship, covering her full-time tuition, and earned an athletic scholarship that helped her cover books and additional college costs. Cadden was also a Phi Theta Kappa member during her time at SMCC. All programs she was part of required her to maintain a high GPA.
Cadden is an outstanding student who dedicated herself to her team, her studies and supporting other students. She was a math tutor in the Learning Resource Center, helping students pass their classes. She also accomplished all of this while holding a job in a clinic as part of her clinical experience.
This Spring of 2023, Cadden decided to change her career path altogether, surprising her coaches, teammates, and family. After spending most of her college education following a pre-nursing path, she chose to pursue a career with Allegiant Airlines to become a pilot.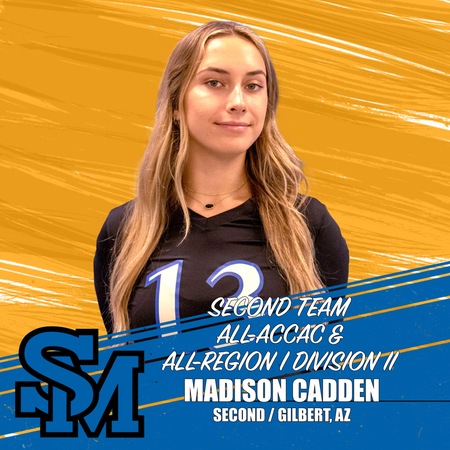 "I went to a Women in Aviation meeting that inspired me to join," Cadden shared. "There aren't many women who are pilots, and after I researched and learned about the career, I went on my trial flight and fell in love with it."
The Allegiant Pilot Pathway Program is approximately three years, during which she will spend training to fly, instruct new pilots, and then co-pilot.
"I assessed the pros and cons when I was making my decision, and now I'm just super excited to make an impact as a woman in a male-dominated field," Cadden said. "Everything I have experienced here, from tutoring to being a disciplined athlete and student, has prepared me for this. I know communication will be key in succeeding as a pilot."
Cadden will now graduate on May 11 during Commencement with an Associate of Arts in General Studies. She is proud of becoming the Class of 2023 Valedictorian after she believed her chances were lower after changing her major and choosing to not pursue a university degree right after community college.
Her parents and five sisters, teammates and coaches are also proud to see her dedication pay off. After graduation, she will begin her training along with her sister in Colorado this upcoming August, where she will begin flying training with the program.
"My change came very sudden, but after learning more about the career, I am focused and ready for this new journey," Cadden said.
She hopes to be an example for her graduating class by inspiring others to follow their dreams.
"Don't settle; the sky is the limit," Cadden said. "Literally for me."