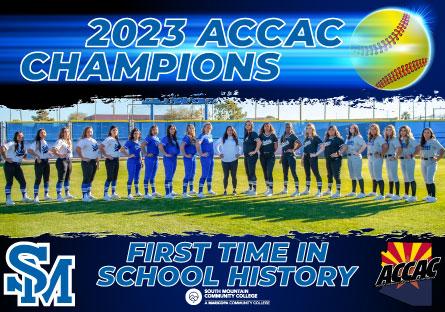 For the first time in school history, the South Mountain Community College softball team has won the Arizona Community College Athletic Conference Championship. The Cougars finished the regular season on a six-game winning streak and posted a 49-8 overall mark and a 43-5 record in ACCAC play.
The Cougars will host the Region I Division II Tournament for the first time in school history. The event features the top four Division II teams and runs from May 11-13. There will be two games on Thursday, May 11, three on Friday, May 12 and at least one on Saturday, May 13. A free live stream of all games will be available at SMCCCougars.com.
The softball tournament is a ticketed event. This is different from regular season games, and fans must purchase a ticket daily. Adults are $5. Children (13 and younger) and seniors are $3. Fans age two and younger do not need a ticket. 
Tickets will be sold at a ticketing booth on the South Lawn near the south parking lot. A second ticket booth will be near the left field bleachers off the access road.
There is no parking on the dirt area around the canal that encompasses the softball field. This is different from the regular season. Team transportation and ADA parking will be the only vehicles allowed onto the access road that runs around the softball and baseball fields. 
Fans are encouraged to park in the south parking lot near the SMCC gym and purchase their tickets at the South Lawn. SMCC is not responsible for damage to cars from foul balls.
ADA parking will be allowed to enter from either the north or south SMCC parking lots and use the access roads to use ADA-designated parking near the SMCC track.
Food and drink will be available for purchase during all three days of the tournament. Fans may bring in their own refreshments and seating so long as they are placed in an area that is not encumbering other fans or student-athletes. Tobacco, alcohol, and other electronic vaping devices are strictly prohibited on the SMCC campus.
Event Schedule:
May 11
1 p.m.: Phoenix College vs. Mesa CC  {Game One}
4 p.m.  SMCC vs. Chandler-Gilbert CC {Game Two}
May 12
10 a.m. Loser Game One vs. Loser Game Two {Game Three}
1 p.m. Winner Game One vs. Winner Game Two {Game Four}
4 p.m. Winner Game Three vs. Loser Game Four {Game Five}
May 13 - Livestream link for the games 
1 p.m. Winner Game Four vs. Winner Game Five {Game Six} 
4 p.m. IF NECESSARY GAME*  {Game Seven}