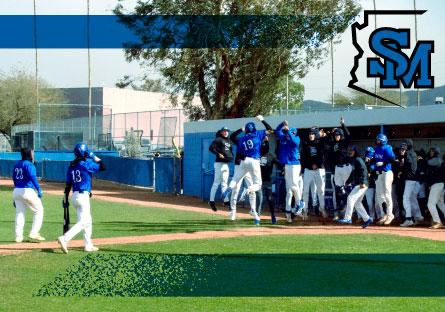 The South Mountain Community College baseball team will host Pima CC in the opening round of the NJCAA Region I Division I Tournament May 4-6 at the Cougar Baseball Field. The teams will play a single game at 2 p.m. on Thursday, May 4 and Friday, May 5, and an if-necessary game will be at noon on Saturday, May 6. 
The baseball tournament is a ticketed event. This is different from regular season games and all fans are required to purchase a ticket for each day.
Adults are $5. Children (13 and younger) and seniors are $3.
Fans ages two and younger do not need a ticket. 
Ticket booths will be available at the east entrance (the blacktop game-personnel parking lot down the right-field line near the batting cages) and the west entrance (the gate off the access road that runs north-south near the restroom facility and baseball practice field). 
Fans are encouraged to park in the south parking lot near the SMCC gym and purchase their tickets at the east entrance. SMCC is not responsible for damage to vehicles from foul balls. 
ADA parking is available on the access road near the west entrance.
Fans may bring in their own refreshments as well as seating so long as they are placed in an area that is not encumbering other fans or student-athletes. Tobacco, alcohol, and other electronic vaping are strictly prohibited on the SMCC campus.