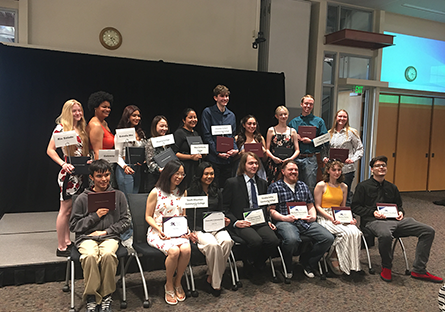 Every year, the Maricopa County Community College District (MCCCD) awards the Chancellor's Awards and the Foundation Scholarship to honor students at each campus. This year, Fang Wang and Juliene Pilar were selected as recipients for South Mountain Community College (SMCC) and were celebrated during the Annual MCCCD Honors Scholarship Celebration on April 10.
"These scholarship awards are extremely meaningful as they symbolize the hard work that our students are continuously willing to put forward to get closer to their goals and dreams," said Christine Raack, English Faculty, and Honors Program Coordinator.
Fang and Juliene are very ambitious in their careers and have dedicated much work to their academics.
Fang Wang received a $1,000 MCCCD Foundation Scholarship for highly motivated and academically gifted students for the next academic year.
Juliene Pilar is the recipient of the Chancellor's Award, which awards one student per year at each college a scholarship that covers up to 18 credits in tuition and fees.
"I brought my dad, mom, and brother to the ceremony because they have greatly impacted the young woman I am becoming," shared Juliene. "It's a great honor to be chosen amongst some of South Mountain's utterly brilliant students to carry such a grandeur accolade; it inspires me to uphold the absolute best of my community," she added.
"Earning this scholarship is a huge encouragement and feels like approval for my academic performance," shared Fang Wang. "Hard work pays off."
Juliene and Fang are graduating in May 2024 and plan to transfer to a university in Fall of 2024 to continue their education.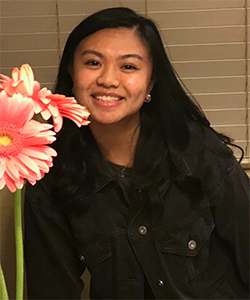 Juliene Pilar
Chancellor's Award Recipient
Major: Biology with an emphasis in Biological Sciences
Transferring to University of Arizona to pursue a Bachelor of Science in Biology with a Biomedical Sciences 
Career Goal: I want to become a pediatrician in the future.
Advice to fellow students:
If I had the opportunity to give some words of wisdom to any student it would be this very special quote I hold dear to my heart, "Work hard in silence. Let your success be your noise." -Frank Ocean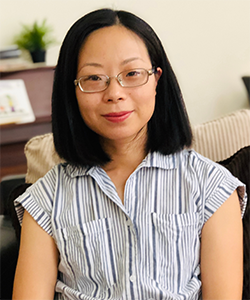 Fang Wang
Foundation Scholarship Recipient
Major: Information Technology
Fang will transfer to Arizona State University West Campus to pursue a Bachelor of Science in Applied Computing.
Career Goal: I would like to teach computer use for K-12 grade schools.
Advice to fellow students:
My advice to fellow students is that your hard work will pay off.