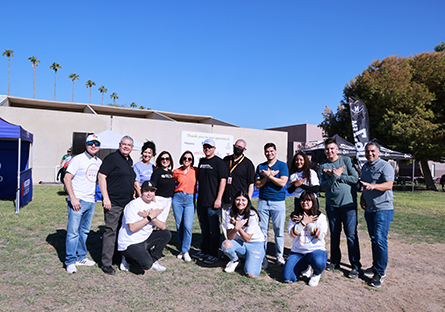 South Mountain Community College (SMCC) and the Valle del Sol Hispanic Leadership Institute Class of 2023 joined forces to organize the Movimiento Family Fun Run + Resource Fair, or named "Movement" in English, for the local South Phoenix community on October 21.
This vibrant event successfully brought together families, friends, and neighbors, turning the spotlight on health, fun, and community. The Movimiento event featured engaging activities, including bounce houses, games, and exciting giveaways, making it a memorable day for everyone who attended.
The focus of the event was the nearly 4k run made its way around and through the SMCC campus. Participants of all ages, from kids to parents, SMCC students, and even grandparents, seized the opportunity to kick-start their Saturday with physical activity with the run and a fun time for their families.
 Movimiento was not only about promoting physical health, it also served as a platform to enhance the overall well-being of the South Phoenix community by providing essential resources for both physical and mental health support with our mobile clinics and booths.
Both Valle del Sol and SMCC are committed to make Movimiento an annual tradition, with a mission to celebrate health, community, and education for the South Phoenix community.
Valle del Sol has will also support students from SMCC with their commitment to donate 10% of the funds raised during the event to support scholarships for students pursuing a bachelor's degree in Behavioral Health Sciences. This initiative will have a lasting and positive impact on individuals and families in the South Phoenix area.
Movimiento Family Fun Run has set the stage for a future where health and community are celebrated, while education is nurtured in South Phoenix. SMCC and Valle del Sol look forward to continuing their partnership to make a difference in the lives of the community they serve.