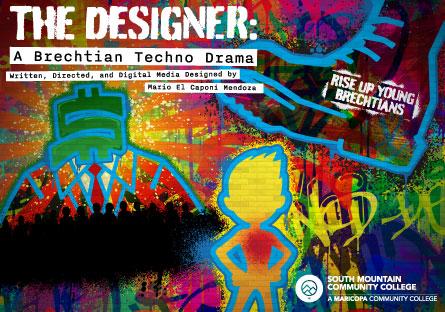 Synopsis: A BRECHTIAN stylized and immersive multimedia theatrical experience inspired by the story of
Peter Pan brings life to a new world order. Children and teenagers are left with the task of
rebuilding society after the deadly effects of a global virus. Pan, a seventeen-year-old girl, must
determine what kind of world she hopes to design, but her vision of the world might come in direct
conflict with the vision of a menacing oligarch tyrant.
Disclaimer: The show may not be suitable for audiences under 14 years of age unless accompanied by a parent.
Content includes: Profanity, sexuality and acts violence.
Location, Dates & Times:
SMCC PAC Performing Arts Center
Wed, April 26th, 7:30 PM
Thu, April 27th, 1:30 PM
Thu, April 27th, 7:30 PM
Sat, April 29th, 7:30 PM
Cost: Free admission for all. For reserve seating, please email Mario Mendoza at mario.mendoza@southmountaincc.edu
Cast:
PAN | Piper Newman
THE LEADER | Porter Molinar
DESIGNER A | Angie Gomez
DESIGNER B | Isaiah Hernandez
DESIGNER Z | Sage Valenzuela
NEW JESUS | Christopher Hoormann
HEAD OF SECURITY | Emitzye Baca
HEAD OF TECHNOLOGY | Benjamin Fredes-Williams
NEURO TELECASTER | Katy Karas
THE BARTENDER | Arturo Aguiar Rivera
PAN'S BROTHER | Matt Sheffer
ARCHANGEL | Marisa Bagazuma
THE GUITARIST | Sef Caldera
Written, Directed, & Digital Media | Mario El Caponi Mendoza
Assistant Director & Dramaturg | Sef Caldera
Production Engineer & Lightning Designer | Rob Duggan
Scenic & Properties Designer | Violet Tackitt
Stage Manager & Costume Designer | Cameron Valenzuela
Voice Coach & House Manager | Chantel Freed
Graphic Designer | David Kinney
Production Photographer | Kassandra Alvarez Vazquez